Zomato
by Donna Feng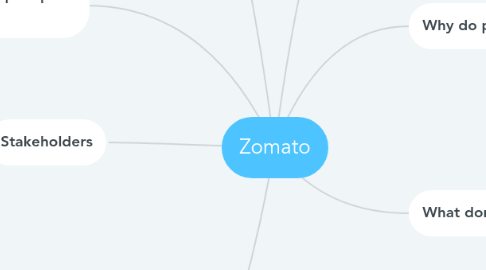 1. Why do people eat out?
1.1. don't have to buy ingredients, prepare and cook food
1.2. don't have to wash dishes
1.3. convenience
1.3.1. fast food
2. Services that are provided
2.1. delivery
2.2. table booking
2.3. cuisine choice
2.4. restaurant searches
2.5. ratings and reviews
2.6. occasion choice
2.7. filters
2.8. contact details
2.9. see and follow top 'foodies'
3. What don't people eat out?
3.1. far drive
3.2. hard decision making
3.3. expensive
3.4. restaurants do not always meet expectations
4. Stakeholders
4.1. app users
4.2. Zomato staff
4.3. Participating restaurants
5. types of people that eat out
5.1. couples
5.2. singles
5.3. families
5.4. big groups
5.5. small groups
5.6. Is it more difficult to decide when with family and friends than when alone?
5.7. Who does the decision making?
5.8. Does the decision maker influence the outcome of users overall satisfaction
6. What part of the app helps to make decisions?
6.1. specific restaurant searches
6.1.1. can only find names of restaurants that you know
6.2. top rated restaurants around your area
6.3. recommended restaurants based on recent searches and ratings
7. Zomato for Business
7.1. Not all restaurants listed on Zomato have websites
7.2. Language barrier for smaller non-English speaking restaurant owners
7.3. Some restaurants have no ratings
7.4. Does listing on Zomato have an impact on restaurants?
7.5. Pictures, menus are not updated
7.6. Reviews, especially bad ones are not replied to sometimes
7.7. Good reviews are still rated a 4/5 which impacts the overall rating
7.7.1. change the rating system
7.7.2. educate users about the rating system before they submit a review