CORPORATE GOVERNANCE IN MALAYSIA (Chapter 7)
by Amiruddin Sallehuddin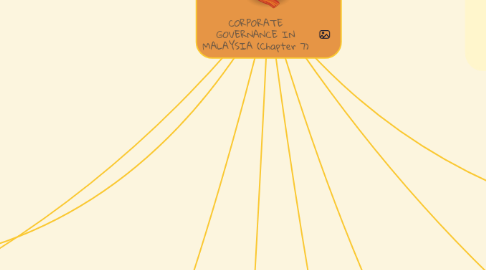 1. The process and structure define the division of power and accountability among shareholders, the board of directors and management, and can have an impact on other stakeholders such as employees, customers, suppliers and communities.
2. To utand immovable, in any way deemed fit and appropriate by the Companies Commission including to obtain loans by the charging of those assets ilise all assets of the Companies Commission, both movable
3. SSM is responsible for the administration and enforcement of the following legislation:
3.1. Companies Act 1965 (Act 125)
3.2. Registration of Businesses Act 1956 (Act 197)
3.3. Trust Companies Act 1949 (Act 100)
3.4. Kootu Funds (Prohibition) Act 1971 (Act 28)
3.5. Any subsidiary legislation made under the Acts specified above such as Companies Regulations 1966 and Registration of Businesses Rules 1957
4. CORPORATE GOVERNANCE
4.1. Corporate governance means the process and structure used to direct and manage the business and affairs of the corporation with the objective of enhancing long –term value for shareholders and financial viability of the business.
5. INSTITUTIONAL BODIES OF CORPORATE GOVERNANCE IN MALAYSIA
5.1. Companies Commission of Malaysia (CCM)
5.2. Securities Commission of Malaysia (SC)
5.3. Bursa Malaysia
6. COMPANIES COMMISSION OF MALAYSIA
6.1. A statutory body which regulates companies and businesses.
6.2. Came into operation on 16 April 2002
6.3. The main activity of CCM
6.3.1. - To serve as an agency to incorporate companies and register businesses -To provide company and business information to the public.
7. COMPANIES COMMISSION OF MALAYSIA
7.1. As the leading authority for the improvement of corporate governance, SSM fulfils its function to
7.1.1. ensure compliance with business registration and corporate legislation through comprehensive enforcement
7.1.2. monitoring activities to sustain positive developments in the corporate and business sectors of the Nation.
8. FUNCTIONS
8.1. To ensure that the provisions of the Companies Commission of Malaysia Act and laws are administered, enforced, given effect to, carried out and complied with
8.2. To act as agent of the Government and provide services in administering, collecting and enforcing payment of prescribed fees or any other charges under the laws administered
8.3. To regulate matters relating to corporations, companies and businesses in relation to laws administrated
8.4. To encourage and promote proper conduct amongst directors, secretaries, managers and other officers of a corporation, self-regulated corporations, companies, businesses, industry groups and professional bodies in the corporate sector in order to ensure that all corporate and business activities are conducted in accordance with established norms of good corporate governance
8.5. To enhance and promote the supply of corporate information under any of the laws administrated, and create and develop a facility whereby any corporate information received by the Companies Commission may be analysed and supplied to the public;
8.6. To carry out research and commission studies on any matter relating to corporate and business activities
8.7. To advise the Minister generally on matters relating to corporate and business activities in relation to the laws administered
8.8. To carry out all such activities and do all such things as are necessary or advantageous and proper for the administration of the Companies Commission or for such other purpose as may be directed by the Minister
9. POWers
9.1. To impose fees or charges for services rendered by the Companies Commission as prescribed by the Minister through regulations established under Section 40
9.2. To appoint agents, experts or consultants, as deemed necessary, to aid the Companies Commission in carrying out its functions
9.3. To provide loans to employees of the Companies Commission for purposes approved by the Minister
9.4. To plan and carry out human resource development as well as cooperative and financing programmes for proper and effective implementation of its functions;
9.5. To collaborate or cooperate with any other societies/organisations, bodies or government agencies to form smart partnerships in implementing the functions of the Commission;
9.6. To do all such things as are aligned with any of its functions and powers.
10. SECURITIES COMMISSION MALAYSIA
10.1. A self funding statutory body
10.2. Established on 1st March 1993
10.3. It was formed under the Securities Commission Act 1993.
10.4. Consist of investigative and enforcement powers within its jurisdiction
10.5. Securities Commission reports directly to the Minister of Finance and responsible to table accounts in Parliament annually
10.6. Its income is derived from the collection of levies and application fees.
11. FUNCTIONS SECTION 15 OF SECURITIES COMMISSION ACT
11.1. To advise the Minister on all matters relating to securities and futures industries.
11.2. To regulate all matters relating to securities and futures contracts
11.3. To ensure that the provisions of the securities laws are complied with.
11.4. To regulate the take-overs and mergers of companies
11.5. To regulate all matters relating to unit trust schemes
11.6. To be responsible for supervising and monitoring the activities of any exchange holding company, exchange, clearing house and central depository.
11.7. To take all reasonable measures to maintain the confidence of investors in the securities and futures markets by ensuring adequate protection for such investors.
11.8. To promote and encourage proper conduct amongst participating organisations, participants, affiliates, depository participants and all licensed or registered persons of an exchange, clearing house and central depository, as the case may be.
11.9. To suppress illegal, dishonourable and improper practices in dealings in securities and trading in futures contracts, and the provision of investment advice or other services relating to securities or futures contracts.
11.10. To consider and make recommendations for the reform of the law relating to securities and futures contracts
11.11. To encourage and promote the development of securities and futures markets in Malaysia including research and training in connection thereto.
11.12. To encourage and promote self-regulation by professional associations or market bodies in the securities and futures industries.
11.13. To license and supervise all licensed persons as may be provided for under any securities law.
11.14. To promote and maintain the integrity of all licensed persons in the securities and futures industries.
12. STATUTES THAT FALL UNDER THE PURVIEW OF SECURITIES COMMISSION
12.1. Securities Commission Act 1993
12.2. Capital Markets and Services Act 2007
12.3. Securities Industry (Central Depositories) Act 1991
13. ENFORCEMENT TOOLS AVAILABLE TO THE SECURITIES COMMISSION
13.1. CRIMINAL ACTION
13.1.1. Fines Imprisonment Compounds
13.2. CIVIL ACTION
13.2.1. Civil Relief Civil Recovery and Penalty Power to disqualify CEO and directors
13.3. administrative action
13.3.1. Warnings and cautions Revocation of approvals Stop orders Revocation/Non-renewal of licence Barring of submissions Private Reprimand Public Reprimand Penalties
14. BURSA MALAYSIA
14.1. A self-regulatory exchange holding company with its own memorandum and articles of association empowered to make rules and regulations which cover two broad aspects being regulations governing the members and rules to be complied with by listed companies.
14.2. It acts as market place in which securities such as shares, debentures and bonds may be bought and sold.
14.3. Approved under Section 15 of the Capital Markets and Services Act 2007.
15. OBJEVTIVES
15.1. The provision, regulation and maintenance of such facilities as may be required for conducting the business of a stock exchange by the creation of a fair, orderly and efficient securities market
15.2. To set rules regulating member companies
15.3. To operate a clearing house and a central depository system for the stock exchange, functions which are currently carried out by two separate subsidiaries of the Bursa Malaysia namely Securities Clearing Automated Network Services Sdn. Bhd. (SCAN) and Malaysian Central Depository Sdn. Bhd (MSC)
15.4. To establish just and equitable principles in business transacted on the Stock Exchange