Practical ideas for using the tool to enhance learning
by Charlotte Appleyard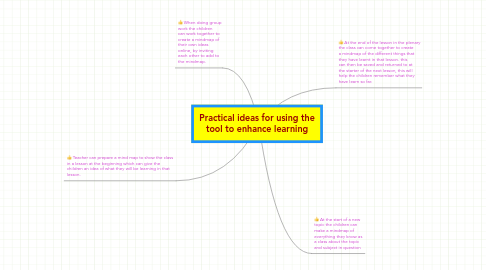 1. When doing group work the children can work together to create a mindmap of their own ideas online, by inviting each other to add to the mindmap.
2. At the start of a new topic the children can make a mindmap of everything they know as a class about the topic and subject in question
3. Teacher can prepare a mind map to show the class in a lesson at the beginning which can give the children an idea of what they will be learning in that lesson.
4. At the end of the lesson in the plenary the class can come together to create a mindmap of the different things that they have learnt in that lesson. this can then be saved and returned to at the starter of the next lesson, this will help the children remember what they have learn so far.