MY GAP YEAR
by Anisa Hamdouni Soussi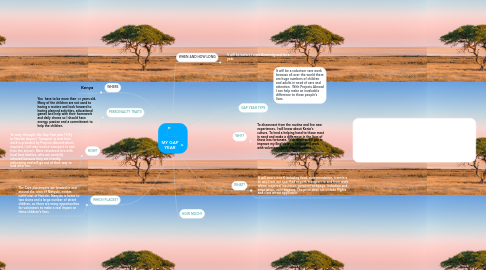 1. WHICH PLACES?
1.1. The Care placements are located in and around the town of Nanyuki, 200km north-east of Nairobi. Nanyuki is home to two slums and a large number of street children, so there are many opportunities for volunteers to make a real impact on these children's lives.
2. WHERE
2.1. Kenya
3. PERSONALITY TRAITS
3.1. You have to be more than 16 years old. Many of the children are not used to having a routine and look forward to having planned activities, educational games and help with their homework and daily chores so I should have energy, passion and a commitment to help the children.
4. HOW?
4.1. To carry throught this Gap Year plan I'll fly to Nairobi Airport. Transport to and from work is provided by Projects Abroad where required. I will also receive transport to and from the airport. Most volunteers live with local host families, who are carefully selected because they are friendly, welcoming and will go out of their way to look after me.
5. During the Gap year I will volunteer from Monday to Friday with children from 0 to about 14 years old working in care homes, kindergartens, centres for children with special needs. As a volunteer, I will work on different tasks that contribute towards fulfilling the needs and long-term goals of each community. When working with children at a care centre, kindergarten or orphanage, teaching basic English, literacy and numeracy is a vital part of your job. Volunteers also track, evaluate and improve children's motor and social skills through arts and crafts, sports, and fun games. And finally there are plenty of activities on weekends like the workshops that organizes The Projects Abroad team for care volunteers.
6. It will be a volunteer care work because all over the world there are huge numbers of children and adults in need of care and attention. With Projects Abroad I can help make an invaluable difference to these people's lives.
7. GAP YEAR TYPE
8. WHY?
8.1. To disconnect from the routine and live new experiences. I will know about Kenia's culture. To lend a helping hand to those most in need and make a difference in the lives of those less fortunate. With this trip, I'll get to improve my English level because I'll work with volunteers from other countries.
9. HOW MUCH?
10. WHEN AND HOW LONG
10.1. It will be before I start University and for a year.
11. WHAT?
11.1. It will cost 1.865 € including food, accommodation, transfers to and from our specified airport, transport to and from work where required, insurance, personal webpage, induction and orientation, 24/7 support. The price does not include flights and visas where applicable.