4 C´s of the institutional design model
by Rémi Papeto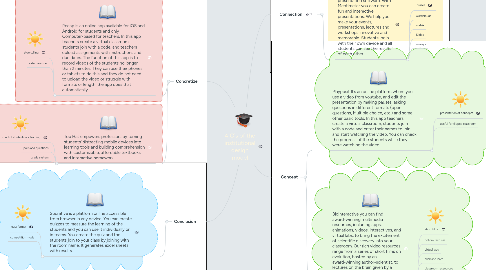 1. Connection
1.1. Mentimeter is an easy to use presentation software. With Mentimeter you can create fun and interactive presentations. We help you make your events, presentations, lectures and workshops innovative and memorable. Students login with their own device and all students can see the results of each other
1.1.1. quizes
1.1.2. wordclouds
1.1.3. matrix
1.1.4. Slides
1.1.5. surveys
2. Concept
2.1. Playposit It's an online platform where you use a video from youtube, and edit the presentation by making pauses, asking questions in different formats (open questions, Multiple choice, etc.) and some other basic tools. In this app teachers create a virtual classroom, students join with a code and enter their names to join and start watching the video. You can check the progress of the students while they were watching the video.
2.1.1. presentation of concepts
2.1.2. useful for flipped classroom
2.2. Biointeractive you can find award-winning multimedia resources, including apps, animations, videos, interactives, and virtual labs, to bring the excitement of scientific discovery into your classroom. Our rich video resources range from a series of short films on evolution, hosted by an award-winning author-scientist, to lectures on the brain given by a Nobel-prize winner—all supplemented by teacher guides and classroom activities.
2.2.1. short films
2.2.2. holiday lectures
2.2.3. virtual labs
2.2.4. click and learn
2.2.5. classroom ressources
3. Concretize
3.1. Recap is an online app available for iOS and Android for students and only Computer-based for teachers. In this app teachers create a virtual classroom, students join with a code, and teachers upload assignments with instructions and due dates. The function of this app is to record videos of the students no longer than 2 minutes. They can use their phones or tablets to do this and they do not need to upload the video or struggle with formats or length, the app does that automatically.
3.1.1. storytelling
3.1.2. video resume
3.2. Top Hat empowers professors by turning students' distracting mobile devices into learning tools and building comprehension with customizable, affordable textbooks and interactive homework.
3.2.1. tool to check if students are learning
3.2.2. polls and questions
3.2.3. grade system
4. Conclusion
4.1. Socrative is a platform online accessible from browser in any device. You can create quizzes to measure the learning of the students and you can use it individually or in teams. You create the quiz and the students join to your class by joining with the room name. It generates excel sheets with results.
4.1.1. quiz format
4.1.2. competition mode