PC Operating Systems
by
Daisymarie ballesteros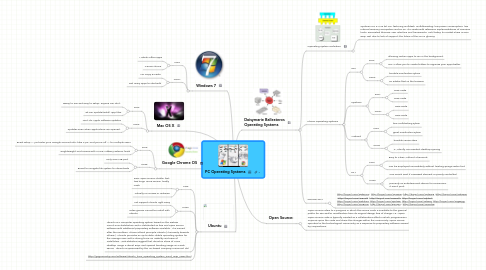 0.0
stars -
0
reviews range from
0
to
5
Daisymarie Ballesteros Operating Systems
Operating System Definition
Phone Operating Systems
Sources 2011
Windows 7
Mac OS X
Pros:
Cons:
Ubuntu
Ubuntu is a computer operating system based on the Debian GNU/Linux distribution and is distributed as free and open source software with additional proprietary software available. It is named after the Southern African ethical principle Ubuntu ("humanity towards others"). Ubuntu provides an up-to-date, stable operating system for the average user, with a strong focus on usability and ease of installation. Web statistics suggest that Ubuntu's share of Linux desktop usage is about 50%, and upward trending usage as a web server. Ubuntu is sponsored by the UK-based company Canonical Ltd.
http://gogeometry.com/software/ubuntu_linux_operating_system_mind_map_news.html
Google Chrome OS
Open Source:
Open source refers to a program in which the source code is available to the general public for use and/or modification from its original design free of charge, i.e., open. Open source code is typically created as a collaborative effort in which programmers improve upon the code and share the changes within the community. Open source sprouted in the technological community as a response to proprietary software owned by corporations.