Jerome
by
Paul Stainthorp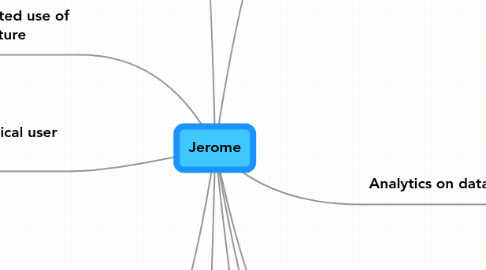 0.0
stars - reviews range from
0
to
5
Jerome
Analytics on data use
G Analytics
API logs
Using external analytics to teach jerome?
Social media - embedding
Openly licensed, bibliographic data
MARC records
IMPORTANT: Jerome can link to the original (HiP display, EPrints) but will serve up its own "new original".
EPrints data
A-to-Z knowledgebase
Journal TOCs
Attractive, documented, supported APIs
Bibliographic APIs
Item APIs
User APIs (out of scope)
A sustainable public-facing search portal
"Send to..."
Record enrichment
Lists
Logging in
Recommendation engines
Mixing desk
Machine-readable
A semantic sitemap of aggregated data
Find out what Joss meant by this.
Documented technical user case studies
Write developer case studies - what form should these take?
Documented 'user journeys' case studies
Write user case studies - what form should these take?
Documented use of infrastructure
Documented machine learning/personalisation engine
Document use of Neo4J and machine learning algorithms
Contributions to community events
JISC Infrastructure for Resource Delivery meeting, 1 March, Birmingham
Mashed Library, 8 March, Lincoln
Personalised Library Services, 22 March, Cambridge
cpd25 mashups workshop, 13 April, London
Opening Data, Opening Doors, 18 April, Manchester
UC&R Yorks & Humberside event: Discovering Discovery Tools, 16 May, Huddersfield
Discovery - building a UK metadata ecology, 26 May, London
Cambridge hack event???????????????????????