Levels of Police in Canada
by James bmlss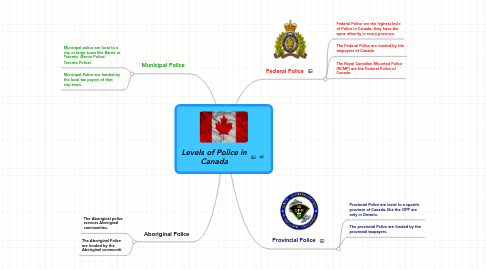 1. Municipal Police
1.1. Municipal police are local to a city or large town like Barrie or Toronto. (Barrie Police/ Toronto Police)
1.2. Municipal Police are funded by the local tax payers of that city/town.
2. Aboriginal Police
2.1. The Aboriginal police services Aboriginal communities.
2.2. The Aboriginal Police are funded by the Aboriginal communiti.
3. Federal Police
3.1. Federal Police are the highest levle of Police in Canada, thay have the same athority in every province.
3.2. The Federal Police are funded by the taxpayers of Canada
3.3. The Royal Canadian Mounted Police (RCMP) are the Federal Police of Canada.
4. Provincial Police
4.1. Provincial Police are locial to a spesific province of Canada, like the OPP are only in Ontario.
4.2. The provincial Police are funded by the provincial taxpayers.