Levels of Police in Canada
by Lauren BML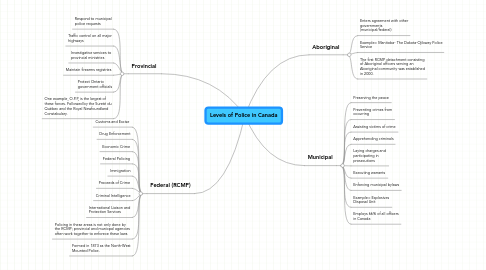 1. Aboriginal
1.1. Enters agreement with other governments (municipal/federal)
1.2. Example= Manitoba- The Dakota-Ojibway Police Service
1.3. The first RCMP detachment consisting of Aboriginal officers serving an Aboriginal community was established in 2000.
2. Provincial
2.1. Respond to municipal police requests
2.2. Traffic control on all major highways
2.3. Investigative services to provincial ministries
2.4. Maintain firearms registries
2.5. Protect Ontario government officials
2.6. One example, O.P.P, is the largest of these forces. Followed by the Sureté du Québec and the Royal Newfoundland Constabulary.
3. Municipal
3.1. Preserving the peace
3.2. Preventing crimes from occurring
3.3. Assisting victims of crime
3.4. Apprehending criminals
3.5. Laying charges and participating in prosecutions
3.6. Executing warrants
3.7. Enforcing municipal bylaws
3.8. Example= Explosives Disposal Unit
3.9. Employs 66% of all officers in Canada
4. Federal (RCMP)
4.1. Customs and Excise
4.2. Drug Enforcement
4.3. Economic Crime
4.4. Federal Policing
4.5. Immigration
4.6. Proceeds of Crime
4.7. Criminal Intelligence
4.8. International Liaison and Protection Services
4.9. Policing in these areas is not only done by the RCMP; provincial and municpal agencies often work together to enforece these laws
4.10. Formed in 1873 as the North-West Mounted Police.