Business Development Plan 09-2010
by
Bret Davis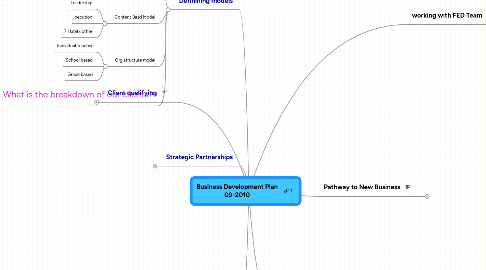 0.0
stars -
0
reviews range from
0
to
5
Pathway to New Business
Data research and review project: see mind map  
Connecting with Exisiting clients
Proactive Process for Connecting for existing clients: see mind map on same
those with no client facilitators
Client Faciltiators, List clients -determine a plan and a schedule to reach, How to tie into Scott Miller's work, How can we help: JTBD, New Faciltator support, Web based Support day webinar
Blogs for news and information
Connect with Dr. Covey's community
Connecting with Prospects
Reaching Districts + School Admin., contact strategy, email campaigns, phone based, create effective cold call /follow up, Need a email communication piece to grab attention, web based, Conferences, Public Program, the focus will be on the states with solid public programs, Individual teachers:, email lists, Webinar + record it, Teacher package, service centers, Universities, email lists, districts, exisitng clients to send to their teachers, conferences, Dr. Covey's site, List clients -determine a plan and a schedule to reach, FC ED site
Connecting with HE, Network with existing HE accounts, Cal U Symposium, what does the Ed team say-collaboration, Contact Strategy, email, web based, Phone based, Conferences, Public Program, Get HE data
Tapping into NE and Federal Events, use email signature to include events
Tapping into Corproate web casts e.g Speed of trust
How can we drive revenue from the Web?
What role consultants play, Chuck, Meg, Non billable days, Expected behaviors for driving business, Debrief session
Review past leads eg. John Boone
Regional or state based Focus, develop a map for strategic work eg. NY/WV
Leads from client referrals: watch the events with high NPS
Using Show cases??
comb Sales force
Client qualifying
Who you talk to will detemrine the kind of business youhave?
Use Mahan Process
outake system, qualify quickly upfront, face to face visits??
qualify web, email and phone leads-reactive
create a questionaire or filter to understand the level of their interest e.g teacher for themselves
develop a recorded webcast/pod cast to educate clients on a diagnostic approach
move to the xQ
using the public's team to qualify
how to identify in SF
when do they pass the lead to us
will they move client to an onsite or move the lead to us
do they stay with the client/how long
what is their role to educate
Strategic Partnerships
IUS/Boces
Educational entities: e.g ASCD
Corporate for leader in me funding
working with corporate cps
e.g Ruth Hollis/Cynthia Barnett
PA state-J Cannon-Kevin Little
working with FED Team
FED DOE
Other state agencies ed connected
Defining Roles
Bret
Kimberly
Shawn's public team
CSCs
Definining models
Revenue Based Model
based on total rev goal: how will the map of these models look? Do I set a goal of x amount of each? what is the average $ per client
under 5k, Individual classroom, Public program attendance, grade level
6-10k
11k-40k, school based, Intial district roll out
75-100k
Content Basd Model
Leadership
xecution
7 Habits other
Org structure model
Individual Teacher
School based
Grade based
What is the breakdown of our clients?
sales force
dashboard
forecasting
create proper drop down for Opportunites to reflect our lead indicators
can reports be included e.g mahan Jtbd etc.
easy read of training events to reference