Restoration History pt.II
by
Jordan C.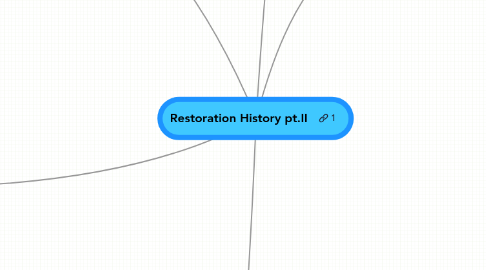 0.0
stars - reviews range from
0
to
5
Organizations
ACMS American Christian Missionary Society
1849
Earliest missionary organization in the Stone-Campbell heritage
Louisville Plan (1868), The plan tried to make the missionary society more effective, - The plan failed because people thought that it would make a denomination - It succeeded in a sense because it revived people's interest in missions
NACC North American Christian Convention
FCMS Foreign Christian Missions Society
Practiced Open Membership due to mission field difficulties
CWBM Christian Women Board of Missions
Circle meetings to promote awareness (churches met separately, then together, then regionally)
Most effective missionary organization of the 19th Century
UCMS United Christian Missionary Society
Disciples of Christ
1/2 men 1/2 women
Open Membership controversy, Many congregations withheld financial support of the Society because of the Open Membership controversy
Medbury Resolution, Condemned Open Membership, FCMS refused
Four Types of Colleges
Bible Colleges, Major in Bible, Secondary Studies, professional or vocational training with gen. ed., Strong focus on ministers, secondary focused on Christians in general, School of the Evangelists (JBC), First Bible College to function under the definition of what a "Bible College" was really meant to be
Liberal Arts, Core of Bible, Focused on the general education, Targets Christians in general
Bible Institute, Schools of preaching (no general education)
Bible Chair
Robert Richardson
3 Contributions, Attention to issues of church issues in the emerging Movement, His interpretation of the fundamental goals of the Movement, Wrote Memoirs of Alexander Campbell
W.K. Pendleton
ACMS
Became president of Bethany College in 1866
Collaborated in the founding of the ACMS and the Louisville Plan
J.W. McGarvey (in between Lipscomb & Pendleton)
Professor/president at College of the Bible (now Lexington Theological Seminary)
Conservative
Important Works, "Commentary on Acts", read by people from both sides of debate, "Lands of the Bible"
David Lipscomb
Southern Churches
Opposed the ACMS
Civil War preacher
"Gospel Advocate", Founded by Tolbert Fanning, Edited by William Lipscomb and David Lipscomb during Civil War
Opposed the use of instruments in worship
Isaac Errett
The most important figure in the late 19th century Churches
Wrote "Our Position"
Herbert Willett
Modernist
Full-on accepted theological liberalism
Helped found the Campbell Institute
Edward S. Ames
First church to practice open membership
"Christian Century", The voice of theological liberalism. Edward S. Ames, Herbert Willett
Peter Ainslie
"Our Fellowship and The Task" (his address)
"The Christian Union Library"
Christian Union (CCU) – Ainslie was the first president
Edwin Errett
Close friend of Ashley Johnson
Owned "Christian Standard"
Owned Standard Publishing
Called for a Restoration Congress
1906/9 A Capella Split
Daniel Sommer
Sand Creekism, Believed that the "Innovations" were sin/cause for disfellowship., "Innovations", Missionary society, Select choir, One man ministry, Fundraising, Creeds
Valued "pure church" over evangelism.
1927 NACC (Independents)
P.H. Welshimer
Minister at FCC of Canton, OH (largest church)
Began the first "direct-support" missions
Direct-Support Missions, Missionaries directly supported by churches and held accountable to local church
1968 Disciples Split
James D. Murch
Leader among the ICC (Boston Church)
Led the National Association of Evangelicals
Kevin Ray
founded Disciple Renewal, Reasons for the DR, Loss of Biblical Authority, Non-Biblical Christology, Non-Biblical Ethical View, Uncritical Ecumenical Involvement, Increasing Polarization, No Evangelical/Conservative Seminary
Philosophies
Evangelicalism
Emphasis on one's personal relationship with Jesus Christ: the heart of the Gospel is "Do you know Christ as your personal Savior?"
National Association of Evangelicals
Boston Church (ICC), Progressive in their worship and evangelism, Extremely conservative and exclusive and narrow in their theology
Billy Graham
Campus Crusade for Christ
Modernism
uncritical acceptance of higher criticism as the primary method of biblical interpretation
Herbert Willett
Edward S. Ames
Postmodernism
Shift from reason to mystery: the supernatural presence of Christ in the church through the Holy Spirit
Churches
A Capella Churches of Christ
A Capella means "according to the Church"
"Gospel Advocate", Premier platform of influence within Churches of Christ, David Lipscomb
Beliefs, Blueprint Hermeneutic/Patternism, 2 Assumptions, There is an exact pattern for the Church revealed in the NT, Every Christian belief and practice must be authorized by the NT, CENI method, Command, Example, Necessary Inference, "where the NT is silent, we are silent", No instruments in worship, no evidence of instruments in early church, Vocal music is more consistent with "in spirit and in truth", early church fathers didn't sanction use of instruments
"Progressives", Abandoned A Cappella, united more with the Independents, More open to a different way of thinking
Independant
Restoration Forum (unity)
Bible Colleges (instead of Board of Higher Education)
anti-UCMS
Beliefs, not "patternists", "where the NT is silent, we infer"
"Restoration Herald", 1930-50s – widely read in the Christian Churches
"Directory of Ministry" (instead of "Yearbook of Amer. Churches"), Annual listing of the 5,600 congregations/personnel choosing to be identified w/Independents
Disciples of Christ (denomination)
UCMS
Open Membership
Theological liberalism
Provisional Design, General, General Assembly, Consisted of the general board, administrative committee, and officers, Regional, Local
Restructure, 1956: "Panel of Scholars" formed under the leadership of the UCMS and BCE 1958: "Council on Agencies" formed (primarily for communication) 1959: International Convention, Denver: "Resolution 52" urging cooperative strategies ("yes we should form a denomination") 1960: International Convention, Louisville: establishment of the "Commission on Cooperative Police and Practice" and conversion of the "Panel of Scholars" into a 120-person "Commission on Brotherhood Restructure" 1961: Establishment of the "Christian Church Foundation for Unified Promotion" (raising money) 1963: "Panel of Scholars" publishes The Renewal of the Church (3 volumes) 1964: International Convention, Detroit: convention converted to a delegate assembly (final approval in 1966) 1966: International Convention, Dallas: "Provisional Design for the Christian Church (Disciples of Christ)" presented 1967: International Convention, St. Louis: "Provisional Design" accepted 1968: The International Convention in Kansas City met officially as the "General Assembly" of the Christian Church (Disciples of Christ)
"Panel of Scholars", "Renewal of the Church", They equate restorationism as "patternism", They propose in its place, progressive ecclesiology – "you can't set the church in the 1st Century – it has to move with the times."
Events
Centennial Convention (1909)
Pinnacle of Restoration Movement
Celebration of the 100 year anniversary of "Declaration and Address"
Pittsburgh, PA
Huge communion service took place in the Forbes Field (20,000)
Splits
1906/9 - A Capella Churches Split
1927 - beginning of "Independents" (NACC), Indianapolis, Churches that met began calling themselves "independents", Began with the Restoration Congress
1968 - "Disciples of Christ" become denomination