talonnw.com
by
Rene Fabre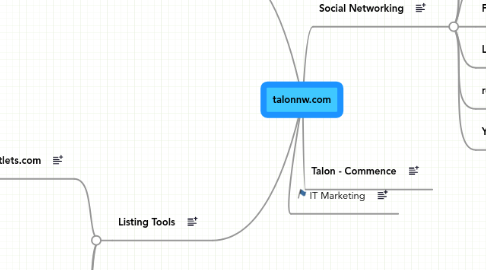 0.0
stars -
0
reviews range from
0
to
5
talonnw.com
IT Marketing
IT Marketing with René Fabre Discuss internet resources, marketing tools, programs, strategies, implementation, and FAQs...  
Talon - Commence
Talon's Dashboard is an online application designed to help you stay on top of your transactions, 24/7. It not only helps you to continue doing what you do best—helping your clients buy and sell real estate—but it helps you do it more efficiently. Dashboard is intended to help you enhance your productivity, mobility, and communication capabilities through fast, easy online access to every detail of your transactions. You'll be more productive and informed because information will be more readily available, and your clients will be happier because you'll be able to provide them faster and more complete customer service. And happier clients can only mean one thing: more word-of-mouth marketing, more referrals, and more business. Features & Benefits Open order notifications Online order placement Daily and weekly summary reports Account and Contact Management Real-time information status information    
Social Networking
Social Media sites are visited by millions of prospective buyers everyday...  
email
Email is a form of social networking. It's especially powerful if you incorporate html banners like retaggr.com to integrate your online locations and resources.
ActiveRain
www.activerain.com a free online community for real estate professionals designed to help them promote and grow their business. The current membership is 140k+ as of June 1, 2009... More and more, consumers are finding this site to locate internet savvy realtors and listings in their area of interest.
Biznik
Collaboration beats competition. We believe that, when you're small, collaboration is a much surer path to success than competition. Biznik members connect online, and meet in person.   http://www.biznik.com  
FaceBook
http://www.facebook.com Facebook users may choose to join one or more networks, organized by city, workplace, school, and region.[42] These networks help users connect with members of the same network. Users can also connect with friends, giving them access to their friends' profiles.[43] The website is free to users and generates revenue from advertising including banner ads.[44]Users can create profiles including photos and lists of personal interests, exchange private or public messages, and join groups of friends.[45] By default, the viewing of detailed profile data is restricted to users from the same network and "reasonable community limitations".[46] Microsoft is Facebook's exclusive partner for serving banner advertising,[47] and as such Facebook only serves advertisements that exist in Microsoft's advertisement inventory. According to comScore, an internet marketing research company, Facebook collects as much data from its visitors as Google and Microsoft, but considerably less than Yahoo!.[48]    
LinkedIn
www.linkedin.com is an online network of more than 25 million experienced professionals from around the world, representing 150 industries. When you join, you create a profile that summarizes your professional accomplishments. Your profile helps you find and be found by former colleagues, clients, and partners. You can add more connections by inviting trusted contacts to join LinkedIn and connect to you. Your network consists of your connections, your connections' connections, and the people they know, linking you to thousands of qualified professionals.
reTaggr
www.retaggr.com Your business card 2.0 - a portable interactive mini website - that unifies your online presence. Use it as a personal branding tool. Links to ALL your online locations.  
Yelp
http://www.yelp.com Yelp, Inc. is a Web 2.0 company that operates a social networking, user review, and local searchweb site of the same name. Over 10.6 million people access Yelp's website each month, putting it in the top 100 of U.S. Internet web sites.[2]
RE & MLS sites...
www.realtor.com
www.nwrealestate.com
Listing Tools
Listing Tools, Resources, and Platforms... These tools comprise of websites and online applications for listing, slide shows, single-site listings, landing pages, and lead generation.  
Postlets.com
www.postlets.com An easy to use application to post your listings to 12+ sites on the web. You can also generate html for sites like Craigslist.com and Facebook.com etc...  
flyinside.com
www.flyinside.com Virtual tour solution. It's free to sign up for an account, create unlimited virtual tours, have them hosted on the web, and manage any resulting leads. 
ListingPromoter.com
Ticor Title sponsors 2 Listing Promoter sites... Washington www.listingpromotert.com Oregon www.listingpromotertor.com Clients registering accounts on either of these sponsored sites receive discounts.  
cyberhomes.com
 www.cyberhomes.com gives you access to online tools for valuation, aerials, demographics, comps, foreclosures, etc.