ARTICULOS INDEFINIDOS EN SINGULAR A/ AN
by Clari Alvarez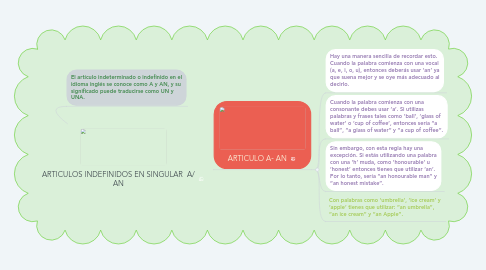 1. El artículo indeterminado o indefinido en el idioma inglés se conoce como A y AN, y su significado puede traducirse como UN y UNA.
2. ARTICULO A- AN
2.1. Hay una manera sencilla de recordar esto. Cuando la palabra comienza con una vocal (a, e, i, o, u), entonces deberás usar 'an' ya que suena mejor y se oye más adecuado al decirlo.
2.2. Cuando la palabra comienza con una consonante debes usar 'a'. Si utilizas palabras y frases tales como 'ball', 'glass of water' o 'cup of coffee', entonces sería "a ball", "a glass of water" y "a cup of coffee".
2.3. Sin embargo, con esta regla hay una excepción. Si estás utilizando una palabra con una 'h' muda, como 'honourable' u 'honest' entonces tienes que utilizar 'an'. Por lo tanto, sería "an honourable man" y "an honest mistake".
2.4. Con palabras como 'umbrella', 'ice cream' y 'apple' tienes que utilizar: "an umbrella", "an ice cream" y "an Apple".