Francis Bacon and the Four Idols
by
Hanchen Lu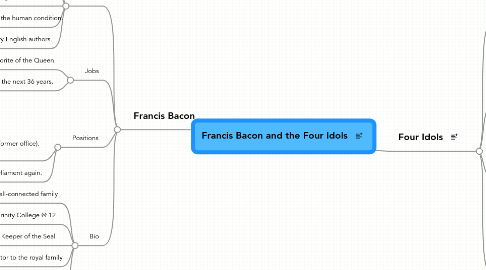 5.0
stars -
1
reviews range from
0
to
5
Francis Bacon and the Four Idols
"Bacon, Francis, Viscount Saint Alban (or Albans), Baron of Verulam." Encyclopædia Britannica. 2008. Encyclopædia Britannica Online. 31 Aug. 2008  <http://search.eb.com/eb/article-10342>. Francis Bacon (1561-1626) 31 Aug. 2008. <http://www.iep.utm.edu/b/bacon.htm#SH2j>.      
Four Idols
The psychological causes of our logical fallacies that prevent us from achieving a full understanding of nature.
Idols of the tribe
Fallacies that are inherent to human nature, can only be compensated for
Idols of the cave
Distortions pecular to individuals caused by culture, how they were raised, personality, etc.
Idols of the marketplace
Errors of interactions between people. Namely communication
Idols of the theater
Fallacies from grand schemes of philosophy
Francis Bacon
Works
Jobs
Positions
Bio