MATILDA
by
Cautar Amsih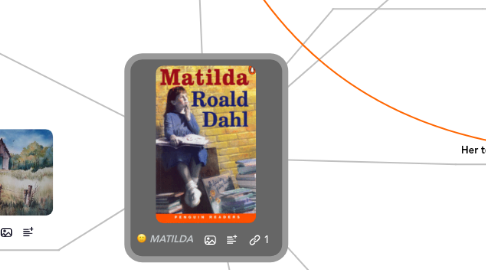 0.0
stars - reviews range from
0
to
5
Mother
The directora
Trumahbull
Matilda's family
Her terrible parents.
Father
Her teacher
Miss Honney
Miss Honey confides in Matilda that Miss Trunchbull is her aunt, who took over her father's home and abused her after her father, supposedly killed himself. Fortunately Miss Honey was able to escape.
Lavander
Matilda's friend Lavender places a newt in Miss Trunchbull's glass of water, Matilda is blamed and Trunchbull refuses to listen to her. Incensed by the injustice, Matilda soon discovers she has psychokinetic powers, as she focuses on the glass with her eyes, and surprises everyone by tipping it over right on to Miss Trunchbull.
salamander
MATILDA
Matilde is a very intelligent, clever, beautiful, and very unusual little girl, who likes read books.
Library
Every afternoon, Matilda goes to library and she reads a lot of books­.
telekinetic powers
Matilda discovers she has telekinetic powers, a secret entrusted only to Miss Honey.
The end
Finally, Matilda went to live with Miss Honney.
Trumahbull disappears