Multimodal litteratur (litteratur repræsenteret ved flere modi end én, tekstens)
by Sebastian Lund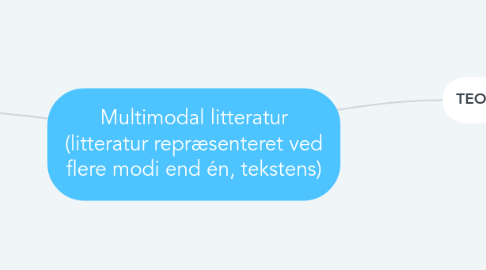 1. TEORI
1.1. Barthes: Det lyse kammer og Billedets retorik. Forsøget på at "læse" billedet med udgangspunkt i den strukturelle lingvistik (Saussure).
1.1.1. "Multimodale lingvister". Forskere der studerer multimodalitet med udgangspunkt i Hallidays funktionelle lingvistik.
1.1.1.1. O'Toole: The Language of Displayed Art (1994)
1.1.1.2. Kress & van Leeuwen: Reading Images: The Grammar of Visual Design (1996) (Senere (2001) et socialsemiotisk fokus, "fortsættelse" af Barthes' semiologiske projekt.)
1.1.1.2.1. Kritiseres af Gibbons, Forceville og Bateman for at lade deres analyse af visuelle elementer afhænge af sproglige strukturer
1.1.1.3. Baldry & Thibault: Multimodal Transcription and Text Analysis (2006)
1.1.1.3.1. Værktøj: Cluster analysis
1.1.1.3.2. Reformulation og revision af Kress & van Leeuwen
1.1.1.3.3. ÷ Receptionsæstetik
1.1.1.4. Nina Nørgaard: Multimodal Stylistics: The Happy Marriage of Stylistics and Semiotics (2010) (Nørgaard forsøger at syntetisere studier i multimodalitet og studier i stilistik.)
1.1.1.4.1. Typografisk analyse: The semiotics of typography in literary texts. A multimodal approach (2009). Inspireret af van Leeuwen.
1.2. Multimodal kognitiv poetik. Alison Gibbons forsøget at kombinere studier i multimodalitet og studier i "kognitiv poetik".
1.2.1. Alison Gibbons: Multimodality, Cognition and Experimental Literature (2012).
1.2.1.1. En kritisk syntese af værktøjer og begreber fra studier i multimodalitet, de "multimodale lingvister", og værktøjer/begreber fra kognitionsvidenskaben.
1.2.1.1.1. Værktøjer fra studier i multimodalitet: Cluster analysis, reading paths, vectors
1.2.1.1.2. Værktøjer fra den kognitive poetik: figure/ground, kognitive grammatik, kognitiv deixis, konceptuel metaforteori, konceptuel integration og Text World Theory,
1.2.1.2. Kognitiv poetik, Peter Stockwell: Cognitive Poetics: An Introduction (2002)
1.2.1.2.1. Gavins & Steen: Cognitve Poetics in Practice (2003)
2. LITTERATUR
2.1. Anne Carson: NOX (2010).
2.1.1. Typografi (indklippede orbogsopslag)
2.1.2. Fotografi/dokumentarisk materiale.
2.1.3. Experientialitet: NOX er en fold-ud-roman
2.1.4. Bogen som objekt/udstillingsrum/artefakt
2.1.5. Erindring (sorg over brorens død)
2.2. Jonathan Safran Foer: Extremely Loud and Incredibly Close (2005)
2.2.1. Typografi ("håndskrevne" noter, blanke sider, overstregede ord)
2.2.2. Fotografi (den experientelle del understreges, da man kan bladre igennem bogen hurtigt og få billedet til at udvikle sig)
2.2.3. Erindring (sorg over farens død)
2.3. Danielewski: House of Leaves (2000)
2.3.1. Typografisk skævvridning på forskellig vis
2.3.2. Experientialitet: Forskellige læseretninger (reading paths)
2.4. W.G. Sebald: Austerlitz (2001)
2.4.1. Fotoromanen par exellence: et "stabilt" forhold mellemt tekst og billede