Using Technology to Motivate Learners to Increase Their Own Literacy Skills
by
Mindi Vandagriff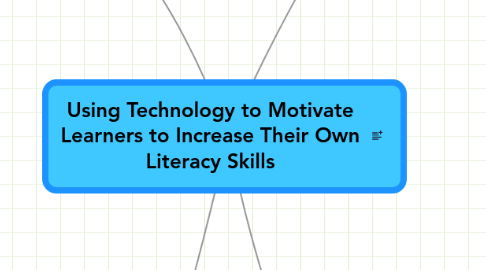 0.0
stars -
0
reviews range from
0
to
5
Using Technology to Motivate Learners to Increase Their Own Literacy Skills
The Challenge
Professional Development
Technology Integration Practice as a Function of Pedagogical Expertise Pierson, M. E.
Problems of primary school teachers' technology-instruction integration
Effectiveness of teacher development program in information technologies
Participant-Directed Evaluation: Using Teachers' Own Inquiries to Evaluate Professional Development in Technology Integration
Integration
Interview with Karen Cator, the director of the Office of Educational Technology at the U.S. Department of Education
Transforming Education with Technology Scherer, M.
integration of information and communication technology (ICT) in a teacher-guided collaborative online learning context encouraged students' critical response to literary texts
Integrating Technology with Literacy: Using Teacher-Guided Collaborative Online Learning to Encourage Critical Thinking Simpson, A.
need for visual literacy as an additional instructional input for students creating technology integration solutions
Visual Literacy: The Missing Piece of Your Technology Integration Course Sosa, T.
A great number of technologies and tools have been developed to support science learning and teaching. However, science teachers and researchers point out numerous challenges to implementing such tools in science classrooms.
Technology Integration in Science Classrooms: Framework, Principles, and Examples Kim, M. C., & Freemyer, S.
Assessment
uses of technology in educational assessment from the perspective of innovation and support for teaching and learning
Perspectives on the Integration of Technology and Assessment Pellegrino, J. W., & Quellmalz, E. S.
Creation of multimedia (MM) could be a valuable diversification of assessment methods within non-technical modules.
Diversifying Assessment through Multimedia Creation in a Non-Technical Module: Reflections on the MAIK Project Cox, A. M., Vasconcelos, A., & Holdridge, P.
Assessment can assist administrators and faculty in understanding the role of instructional/information technology (IT) as a value-added component of undergraduate education
Teaching and Learning with Technology: IT as a Value-Added Component of Academic Life Sandler, M. E.  
Describes research underway that is attempting a breakthrough in the use of technology to improve assessment dramatically beyond the century-old methods in widespread use today.
Assessment, Technology, and Change Clarke-Midura, J., & Dede, C.
Learning Disabilities
Presents a conceptual framework for multimedia instructional design grounded in theory and empirical research and concludes with recommendations for how to integrate multimedia literacy instruction within RTI frameworks
Literacy Instruction, Technology, and Students with Learning Disabilities: Research We Have, Research We Need Kennedy, M. J., & Deshler, D. D.
Differentiated Instruction via Technology
Differentiating with Technology Stanford, P., Crowe, M. W., & Flice, H.
examines technology integration within the context of response to intervention (RTI).
Response to Intervention and Evidence-Based Practices: Where Does Technology Fit? Smith, S. J., & Okolo, C.