IDENTIFY 9/2/08 What makes a good candidate and how do we acquire that candidate?
by Katarina Petronijevic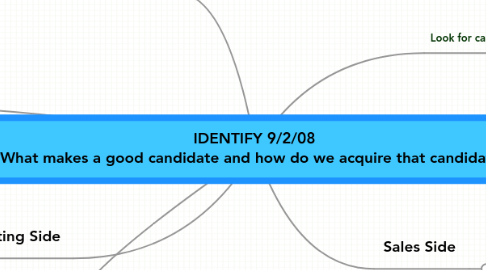 1. OPEN COMMUNICATION VERY IMPORTANT BETWEEN SALES AND RECRUITING! - Must have open communication about market intellegence.
2. Look for candidates that have a specific focus. (experts)
3. Look for candidates that are more talented with broad based experience that we can utilize on different sectors.
4. Sales Side
4.1. What are the trends in specific markets?
4.1.1. Layoffs of perms / replace with Interim and vice versa.
5. Tax Specific: 1. CPA 2. Masters in Tax / Advanced Degree 3. Good Consulting experience with large firm or corporate setting. 4. Federal / State & International knowledge.
6. Recruiting Side
6.1. Attract candidates.
6.1.1. - Build loyatly to have candidates stay long term.
7. Joe - What are we looking for and where are we looking? Louis - What are our current affiliations with professional groups? Jennifer - How can we create a "robust" pipeline of candidates? Sean - How do we synchronize opportunities with our candidate pipeline so we stay ahead of the curve? Scott - What metrics should be implemented?