WORLD WIDE WEB
by nur syuhada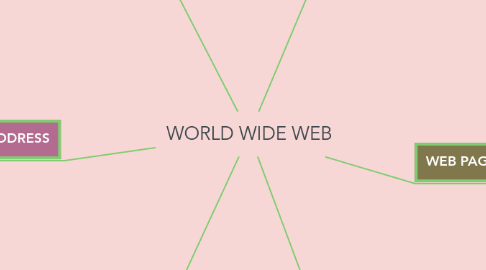 1. INTRODUCTION
1.1. Consists of a worldwide collection of electronic documents ( WEB PAGE )
1.2. WEB SITE
1.2.1. A collection of related web pages and associated items such as documents and pictures which stored on web server.
1.3. WEB SERVER
1.3.1. A computer that delivers requested web pages to your computer.
1.4. WEB 2.0
1.4.1. Web site that provide a means for users to share, modify, provide information (social network web site, wikis)
2. WEB PAGE
2.1. DEFINITION
2.1.1. An electronic document on the web, which can contain text, graphic, animation, audio and video and often built-in connections to other documents, graphics, web pages or web sites.
3. WEB BROWSER
3.1. Application software that allow users to access Web pages and Web 2.0 programs.
3.2. MOST CURRENT BROWSERS SUPPORT TABBED BROWSING
3.2.1. Internet explorer
3.2.2. Firefox
3.2.3. Opera
3.2.4. Safari
3.2.5. Google chrome
3.3. HOME PAGE
3.3.1. The first page that a Web site displays.
3.3.2. DOWNLOADING
3.3.2.1. The process of receiving information such as a web server on the internet.
3.3.3. UPLOADING
3.3.3.1. The process of transferring documents, graphics and other objects from a computer to a server on the internet.
4. WEB ADDRESS
4.1. - A web page has a unique address.
4.2. - Consists of a protocol, host name, domain name, path and web page name or file name
4.3. COMPONENTS
4.3.1. http://
4.3.1.1. Stands for HYPERTEXT TRANSFER PROTOCOL is a set of rules that defines how pages transfer on the internet.
4.3.2. https://
4.3.2.1. Protocol for secured web pages
4.4. OTHER TYPES OF PROTOCOL
4.4.1. ftp://
4.4.1.1. An internet standard that permits file uploading and downloading with other computers on the internet.
4.4.2. SMTP
4.4.2.1. A communications protocol used by some outgoing mail servers.
4.4.3. POP 3
4.4.3.1. A communications protocol used by some incoming mail servers.
5. WEB PAGE NAVIGATION
5.1. HYPERTEXT AND HYPERMEDIA
5.1.1. - HYPERTEXT refers to link in text-based documents, whereas HYPERMEDIA combines text-based links with graphic, audio and video links.
5.1.2. - Links allow you to obtain information in a nonlinear way. That is, instead of accessing topics in a specific order, you move directly to a topic of interest.
5.1.3. - Branching from one related topic to another in a nonlinear fashion is what makes links so powerful.
5.1.4. SURFING THE WEB - The activity of using links to explore the web.
5.1.5. TABBED BROWSING - Allow you to open and view multiple web pages in a single Web browser.
6. WEB SEARCHING
6.1. TYPES
6.1.1. SEARCH ENGINE
6.1.1.1. A software use to find websites, web pages, images, videos and other information related to a specific topic.
6.1.2. SUBJECT DIRECTORY