WORLD WIDE WEB
by allia jailani2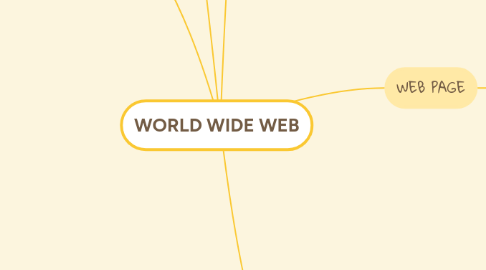 1. CONSISTS OF A WORLDWIDE COLLECTION OF ELECTRONIC DOCUMEMENTS
1.1. WEBSITE
1.1.1. COLLECTION OF RELATED WEB PAGES AND ASSOCIATED ITEMS (DOCUMENTS AND PICTURES)
1.2. WEB SERVER
1.2.1. DELIVERS REQUESTED WEB PAGES TO COMPUTER
1.3. WEB 2.0
1.3.1. WEB SITES THAT PROVIDES A MEANS FOR USER TO SHARE, MODIFY, PROVIDE INFORMATION
2. WEB PAGE
2.1. ELECTRONIC DOCUMENT ON THE WEB, CONTAIN TEXT, GRAPHICS, ANIMATION, AUDIO AND VIDEO AND OFTEN HAS BUILT-IN CONNECTION TO OTHER DOCUMENTS, GRAPHIC, WEB PAGES/WEB SITES
2.2. NAVIGATION
2.2.1. A LINK, SHORT FOR HYPERLINK, IS A BUILT-IN CONNECTION TO ANOTHER RELATED WEB PAGE
2.2.1.1. HYPERTEXT
2.2.1.1.1. REFERS TO LINK IN TEXT-BASED DOCUMENTS
2.2.1.1.2. ALLOWS TO OBTAIN INFORMATION IN A NONLINEAR WAY.
2.2.1.1.3. BRANCHING ONE TOPIC TO ANOTHER
2.2.1.2. HYPERMEDIA
2.2.1.2.1. COMBINES TEXT-BASED LINKS WITH GRAPHIC, AUDIO AND VIDEO LINKS
2.3. HOME PAGE
2.3.1. FIRST PAGE A WEBSITE DISPLAYS
2.3.2. PROVIDE LINKS TO OTHER RELATED WEB PAGES
2.3.3. DOWNLOADING
2.3.3.1. PROCESS OF RECEIVING INFORMATION (WEB PAGE FROM WEB SERVER ON INTERNET)
2.3.4. UPLOADING
2.3.4.1. PROCESS OF TRANSFERRING DOCUMENTS, GRAPHIC AND OTHER OBJECTS FROM COMPUTER TO A SERVER ON INTERNET
3. WEB SEARCHING
3.1. SEARCH ENGINE
3.1.1. SOFTWARE USE TO FIND WEBSITES/WEB PAGES/ IMAGES/ VIDEOS AND OTHER INFORMATION TO RELATED SPECIFIC TOPIC
3.1.2. REQUIRE TO ENTER A WORD OR PHRASE (KEYWORD), CALLED SEARCH TEXT OR SEARCH QUERY WHICH DESCRIBE ITEM SEARCH.
3.2. DIRECTORY SEARCH
3.2.1. PROVIDES CATEGORIZED LISTS OF LINKS ARRANGED BY SUBJECT
3.2.2. USERS LOCATE A PARTICULAR TOPIC BY CLICKING LINKS THROUGH DIFFERENT LEVELS, MOVING FROM GENERAL TO SPECIFIC
3.2.3. MIGHT FACE DIFFICULTY DECIDING WHICH CATEGORIES TO CHOOSE AS THEY WORK THROUGH MENUS' OF LINKS PRESENTED
4. WEB ADDRESS
4.1. UNIQUE ADDRESS CALLED A UNIFORM RESOURCE LOCATOR (URL) OR WEB ADDRESS
4.2. EXAMPLE
4.2.1. HOME PAGE FOR THE KMPk WEB SITE HAS http;//www.kmpk.matrik.edu.my AS ITS WEB ADDRESS
4.2.2. CONSISTS OF A PROTOCOL, HOST NAME, DOMAIN NAME, PATH AND WEB PAGE NAME OR FILE NAME
4.2.3. BEGIN WITH hhtp:// or https:// (SECURED WEB PAGES)
5. WEB BROWSER
5.1. APPLICATION SOFTWARE ALLOWS USERS TO ACCESS WEB PAGES AND WEB 2.0 PROGRAMS
5.2. SUPPORT TABBED BROWSING
5.3. EXAMPLES
5.3.1. FIREFOX
5.3.2. INTERNET-EXPLORER
5.3.3. SAFARI
5.3.4. CHROME
6. TYPES OF WEBSITE
6.1. PORTAL
6.1.1. A WEB SITE THAT OFFERS VARIETY OF INTERNET SERVICES FROM SINGLE, CONVENIENT LOCATION
6.1.2. ONLINE COMMUNITY
6.1.2.1. A WEB SITE THAT JOINS A SPECIFIC GROUP OF PEOPLE WITH SIMILAR INTERESTS OR RELATIONSHIPS POPULAR PORTALS; AOL,EXCITE, YAHOO!
6.1.3. A WIRELESS PORTAL
6.1.3.1. DESIGNED FOR INTERNET-CAPABLE MOBILE DEVICES
6.2. BUSINESS/MARKETING
6.2.1. CONTAINS CONTENT THAT PROMOTES/SELLS PRODUCTS OR SERVICES
6.2.2. MANY ENTERPRISES ALSO ALLOW YOU TO PURCHASE THEIR PRODUCTS OR SERVICE ONLINE
6.2.3. EXAMPLES
6.2.3.1. KRAFT FOODS
6.2.3.2. KRAFT BRANDS
6.2.3.3. TOYSRUS
6.3. WIKI
6.3.1. A COLLABORATIVE WEB SITE ALLOWS USERS TO CREATE, ADD TO, MODIFY OR DELETE THE WEB SITE CONTENT VIA THEIR WEB BROWSER
6.3.2. EXAMPLES
6.3.2.1. WIKIPEDIA
6.3.2.2. WIKIHOW
6.4. ONLINE SOCIAL NETWORK
6.4.1. WEBSITES THAT ENCOURAGES MEMBERS IN ITS ONLINE COMMUNITY TO SHARE THEIR INTEREST, IDEA, STORIES, PHOTOS, MUSIC AND VIDEOS WITH OTHER REGISTERED USERS
6.4.2. EXAMPLES
6.4.2.1. FLICKR
6.4.2.2. YOUTUBE
6.5. BLOG
6.5.1. AN INFORMAL WEB SITE CONSISTING TIME-STAMPED ARTICLES OR POST IN A DIARY OR JOURNAL FORMAT
6.5.2. REFLECTS THE INTEREST, OPINIONS AND PERSONALITIES OF THE AUTHOR AND SOMETIMES SITE VISITORS
6.5.3. EXAMPLES
6.5.3.1. VLOG
6.5.3.2. MICROBLOG