What I learned at #mTech 2011
by
EM Jolayemi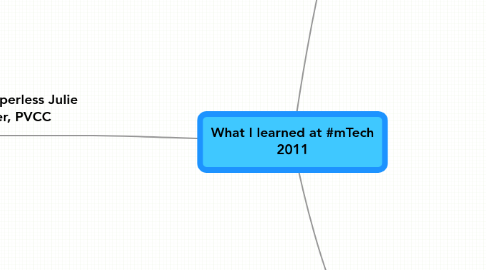 0.0
stars - reviews range from
0
to
5
What I learned at #mTech 2011
Jim Groom Keynote
blogging
#ds106
radio is vertical/ tv is horizontal
Teach Paperless Julie Carpenter, PVCC
YouTube Video "Really" cell phone commercial
Pros/Cons
Techniques
Down With Diigo Liza Sejekora and Devon C Adams
No notecards
No sticky notes
Multiple ways to tag
direct link to your annotation via diigo.
diigolet is as easy as dragging the diigolet button onto your browser
Lisa Sejkora created a Diigo group for her lit course where students posted content and evaluated (really) others work.
being able to share your "manilla envelope" via tags with all of your colleagues, students, etc enables you to extend class anywhere
referenced a small apartment. check this guy from hong kong out http://bit.ly/mEjNOr it's the diigo of living spaces!
@lizasejkora equates Diigo to the manilla envelop that used to hold all the copies, note cards, highlighters, in the research process
#diigo is your manilla envelope where you carry around all of your information. Not the writing process, but the storage space.
have technology but they do not use it to create.. they are passive users. Need to use technology to create and publish. Digital age. and technology use gap.