Week 2: IRAC Case Analysis / Heartland of Atlanta Motel v. United States 379 US 241
by Adam Schenkel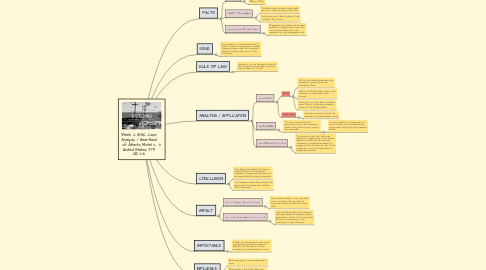 1. FACTS
1.1. PARTIES
1.1.1. HEARTLAND OF ATLANTA MOTEL (MORETON ROLLESTON)
1.1.2. UNITED STATES
1.2. WHAT HAPPENED
1.2.1. The Motel owner refused to allow black persons to reserve rooms at the hotel.
1.2.2. Motel policy was in direct violation of the Civil Rights Act of 1964
1.3. PROCEDURAL HISTORY
1.3.1. All arguments provided by the US were upheld by a 3 judge District Court. The case was then referred to the Supreme Court by the appellate court.
2. INFLUENCE
2.1. Businesses may not discriminate based on race.
2.2. All businesses in the United States are impacted by the ruling that racial discrimination directly impacts interstate commerce.
3. IMPORTANCE
3.1. A health care professional would care if they operate a private practice, and desired to discriminate as to which customers it would see based on race.
4. ISSUE
4.1. The prohibition of racial discrimination in places of public accommodation exceeded Congress' powers under the Commerce Clause and violated other parts of the Constitution.
5. ANALYSIS / APPLICATION
5.1. POSITIONS
5.1.1. Atlanta
5.1.1.1. Felt that the Federal government was exceeding its powers under the Commerce Clause.
5.1.1.2. Violation of 5th Amendment right to pick customers as the business owner chooses.
5.1.1.3. Forcing him to accept black customers was a form of involuntary servitude, a violation of the 13th Amendment.
5.1.2. United States
5.1.2.1. Interstate commerce includes the movement of people between states
5.2. REASONING
5.2.1. The court reasoned that the government's use of the Commerce Clause to enforce the laws in question was reasonable.
5.2.1.1. It is reasonable for the government to protect against racial discrimination by using powers inferred by the Commerce Clause.
5.3. EXPANSION OF LAW
5.3.1. The decision by the Court had broad application to public policy, as this decision expanded the definition of interstate commerce to include the movement of people, and also affirmed the right of the government to enforce federal law to combat discrimination.
6. CONCLUSION
6.1. Race based discrimination does have a negative effect on the interstate movement of people, and therefore can be regulated by the Federal government.
6.2. The Commerce Clause does authorize the government to enforce the Civil Rights Act on businesses.
7. RULE OF LAW
7.1. Whether or not the Commerce Clause of the Constitution can be used to enforce the Civil Rights Act of 1964.
8. IMPACT
8.1. US v Lopez, April 26, 1995
8.1.1. Case involved whether or not a gun-free school zone falls within the realm of "interstate commerce", Heartland case is cited.
8.2. US v McCoy, March 20, 2003
8.2.1. Case invoked the Interstate Commerce clause by stating that equipment used to perpetuate a violation of law constituted the grounds necessary for the government to exert authority.