Vandets kredsløb
by Amalie Nørskov Thomhav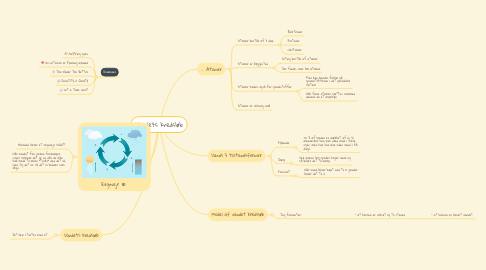 1. Guidelines
1.1. Anything goes!
1.2. No criticism or flaming allowed
1.3. The Wilder The Better
1.4. Quantity is Quality
1.5. Set a Time Limit
2. Atomer
2.1. Atomer består af 3 dele
2.1.1. Elektroner
2.1.2. Protoner
2.1.3. Neutroner
2.2. Atomer er byggesten
2.2.1. Alting består af atomer
2.2.2. Der findes over 100 atomer
2.3. Atomer kaldes også for grundstoffer
2.3.1. Man kan kendes forkel på grundstofferne i det periodiske system
2.3.2. Når flere atomer sættes sammen danner de et molekyle
2.4. Atomer er virkelig små
3. Vands 3 tilstandsformer
3.1. Flydende
3.1.1. 70 % af kloden er dækket af is. Vi mennesker kan leve uden mad i flere uger, men kan kun leve uden vand i få dage
3.2. Damp
3.2.1. Ved præcis 100 grader koger vand og så bliver det til damp
3.3. Frossent
3.3.1. Når vand bliver kølet ned til 0 grader bliver det til is
4. Regnvejr
4.1. Hvordan bliver et regnvejr skabt?
4.2. Når vandet fra jorden fordamper suger skyerne det op og når de ikke kan holde til mere "tisser" den det ud igen. Og det er så det vi kender som regn.
5. Vandets kredsløb
5.1. Det hele starter med at
6. Model af vandet kredsløb
6.1. Jeg forventer: - at karsen er vokset op til stenen. - at karsen er blevet vandet.