AUGMENTED REALITY AND BOOKS
by Ada Giannatelli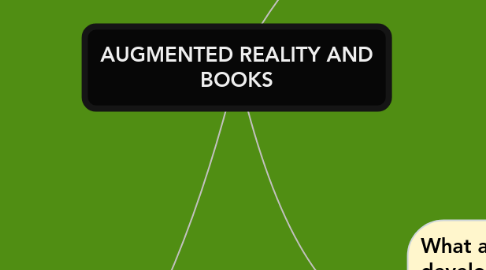 1. What are the operational steps to develop an Augmented Reality app for a book?
2. What is Augmented Reality (AR)?
2.1. The goal of augmented reality is to add information and meaning to a real object or place. Unlike virtual reality, augmented reality does not create a simulation of reality. Instead, it takes a real object or space as the foundation and incorporates technologies that add contextual data to deepen a person's understanding of the subject (Educause)
2.2. Augmented Reality, Virtual Reality, and Mixed Reality (Educause, October 2017)
2.3. Examples of AR-enhanced books (scientific topics)
2.3.1. Augmented Reality Physics Book by ARLOOPA
2.3.2. DeA Link, fra realtà aumentata e libro di testo
2.3.3. HeARt: Augmented and Virtual Reality (AR / VR) for Medical School Learning Tool Enhancement
2.3.4. AR Chemistry Augmented Reality Education Arloon
2.3.5. Demo - Augmented Reality (AR) & textbooks
2.4. Presentation (ppt file - in Italian)
2.5. Presentation
2.6. Presentation (augmented reality book - in Italian)
3. What are some development tools for Augmented Reality?
3.1. apps / specific software
3.1.1. ARKit
3.1.1.1. Apple (released in 2017)
3.1.1.2. interesting features
3.1.1.2.1. lighting feature
3.1.1.2.2. powerful camera (depth, realism, user control videogame-style options)
3.1.1.2.3. doesn't require QR codes (enhanced camera with sensors)
3.1.1.3. requires recent, powerful iOs devices
3.1.1.4. Udacity engaged to provide programmers
3.1.1.5. presentation
3.1.2. Aurasma
3.1.2.1. Make your own Augmented Reality - with PowerPoint and Aurasma (video)
3.2. libraries
3.2.1. Tango (Google AR library)
3.2.1.1. presentation (in Italian)
3.2.2. ARToolKit
3.2.2.1. focus on 2D image recognition
3.2.3. SDK feature comparison table