ART MOVEMENTS (-ISMS)
by kim haziee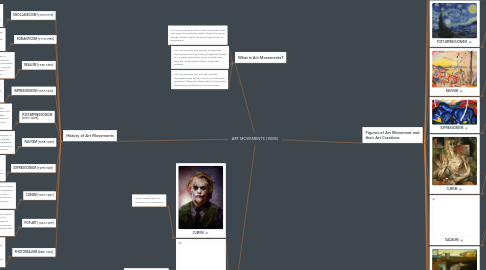 1. History of Art Movements
1.1. NEOCLASSICISM [1760-1830]
1.1.1. Neoclassicism is a revival of the classical past. It developed in Europe in the 18th century when artists began to imitate Greek and Roman antiquity and painters of the Renaissance as a reaction to the excessive style of Baroque and Rococo.
1.2. ROMANTICISM [1770-1850]
1.2.1. Romanticism (also known as the Romantic era) was an artistic, literary, musical and intellectual movement that originated in Europe towards the end of the 18th century, and in most areas was at its peak in the approximate period from 1800 to 1850.
1.3. REALISM [1840-1880]
1.3.1. Realism was an artistic movement that began in France in the 1850s, following the 1848 Revolution. Realists rejected Romanticism, which had dominated French literature and art since the late 18th century, revolting against the exotic subject matter and exaggerated emotionalism of the movement.
1.4. IMPRESSIONISM [1872-1892]
1.4.1. Impressionism was a radical art movement that began in the late 1800s, centered primarily around Parisian painters. Impressionists rebelled against classical subject matter and embraced modernity, desiring to create works that reflected the world in which they lived.
1.5. POST-IMPRESSIONISM [1887-1905]
1.5.1. Post-Impressionism is a term used to describe the reaction in the 1880s against Impressionism. It was led by Paul Cézanne, Paul Gauguin, Vincent van Gogh and Georges Seurat. The Post-Impressionists rejected Impressionism's concern with the spontaneous and naturalistic rendering of light and color.
1.6. FAUVISM [1905-1908]
1.6.1. Fauvism /fʊvism/ is the style of les Fauves, a group of early 20th-century modern artists whose works emphasized painterly qualities and strong color over the representational or realistic values retained by Impressionism.
1.7. EXPRESSIONISM [1905-1993]
1.7.1. Expressionism is a modernist movement, initially in poetry and painting, originating in Germany at the beginning of the 20th century. Its typical trait is to present the world solely from a subjective perspective, distorting it radically for emotional effect in order to evoke moods or ideas.
1.8. CUBISM [1907-1992]
1.8.1. Cubism is an artistic movement, created by Pablo Picasso and Georges Braque, which employs geometric shapes in depictions of human and other forms. Over time, the geometric touches grew so intense that they sometimes overtook the represented forms, creating a more pure level of visual abstraction.
1.9. POP ART [1943-1965]
1.9.1. Pop art is an art movement that emerged in the United Kingdom and the United States during the mid- to late-1950s. The movement presented a challenge to traditions of fine art by including imagery from popular and mass culture, such as advertising, comic books and mundane mass-produced cultural objects.
1.10. PHOTOREALISM [Late 1960]
1.10.1. Photorealism emerged in the late 1960s, building on Pop art and Minimalist movements that preceded it. Richard Estes, Chuck Close, and Ralph Goings were some of the first to attempt exact replication of photographic imagery, and as a result, are often thought of as the founders of the movement.
2. Figures of Art Movement and their Art Creations
2.1. NEOCLASSICISM
2.1.1. "THE CORONATION OF NAPOLEON (1807)" ARTIST: JACQUES-LOUIS DAVID
2.2. ROMANTICISM
2.2.1. "WANDERER ABOVE THE SEA OF FOG (1818)" ARTIST: CASPER DAVID FRIEDRICH
2.3. REALISM
2.3.1. "THE GLEANERS (1857)" ARTIST: JEAN-FRANCOIS MILLET
2.4. IMPRESSIONISM
2.4.1. "HAYSTACKS AT GIVERNY (1884)" ARTIST: CLAUDE MONET
2.5. POST-IMPRESSIONISM
2.5.1. "THE STARRY NIGHT (1889)" ARTISTS: VINCENT VAN GOGH
2.6. FAUVISM
2.6.1. "LUXURY, CALM AND PLEASURE (1904)" ARTIST: HENRI MATISSE
2.7. EXPRESSIONISM
2.7.1. "LARGE BLUE HORSES (1911)" ARTIST: FRANZ MARC
2.8. CUBISM
2.8.1. "TEA TIME (1911)" ARTIST: JEAN METZINGER
2.9. DADAISM
2.9.1. "FOUNTAIN (1917)" ARTIST: MARCEL DUCHAMP
2.10. SURREALISM
2.10.1. "THE PERSISTENCE OF MEMORY (1931)" ARTIST: SALVADOR DALI
2.11. ABSTRACT EXPRESSIONISM
2.11.1. "NUMBER 5 (1948)" ARTIST: JACKSON POLLOCK
2.12. POP ART
2.12.1. "MARILYN MONROE (1967)" ARTIST: ANDY WARHOL
2.13. MINIMALISM
2.13.1. "TWO OPEN MODULAR CUBES/HALF-OFF (1972)" ARTIST: SOL LEWITT
2.14. PHOTOREALISM
2.14.1. "GOLDEN DODGE (1971)" ARTIST: RALPH GOINGS
3. What is Art Movements?
3.1. Art Movements are the collective titles that are given to artworks which share the same artistic ideals, style, technical approach or timeframe.
3.2. Art Movements are simply a historical convenience for grouping together artists of a certain period or style so that they may be understood within a specific context.
3.3. Art Movements are usually named retrospectively by art critics or historians and their titles are often witty or sarcastic nicknames pulled from a bad review.
4. Modern Arts with -ISMS Value
4.1. CUBISM
4.1.1. "THE JOKER (2013)" ARTIST: LUIS HUERTAS
4.2. POP ART
4.2.1. "GIRL WITH BALLOON (2006)" ARTIST: BANKSY
4.3. PHOTOREALISM
4.3.1. "BEA (2014)" ARTIST: ESTER CURINI
4.4. FAUVISM
4.4.1. "LAUREN BACALL (2016)" ARTIST: TIM FOWLER