End of Poverty (10) The Voiceless Dying Africa and Disease
by
Arthur Tao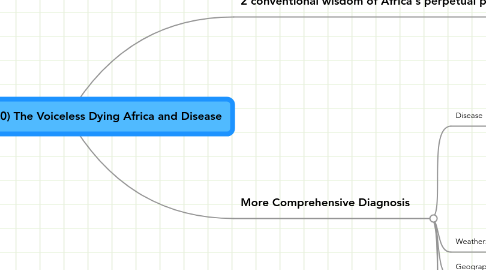 0.0
stars -
0
reviews range from
0
to
5
End of Poverty (10) The Voiceless Dying Africa and Disease
2 conventional wisdom of Africa's perpetual poverty that are not really the root cause
Corruption
More corrupt nations has grown economically, India, Pakistan, Indonesia, Bangladesh
How can corruption be measured by a single number?
Corruption is complex and multi-demensional. Some corruptions block development; some merely benefit unfairly from development, etc.
Western Hegemony
Slave Colonialism
Pawn in Cold War
More Comprehensive Diagnosis
Disease
Malaria, Tropical Disease, 50 billion cases/yr., 3 million deaths/yr, 90% in Africa, Huge economic impact, Fact: Africa's strain of Malaria is much worst than others', Unlucky, Prevention & Treatment Known, Need aid - $2-$3 B, Little aid is provided
HIV/AIDS
Disease causes Poverty, and vice versa
Weather: Drought
Geography: Distance from Markets
No Basic Infrastructure
Roads, motor transportation
Electricity,Telecomm.
Clean Water
Unbalanced: No analysis of bad governance
Demographics: Illiteracy, Pop. Growth