Kasevitstest luudade tootmine
by Jane Kõrts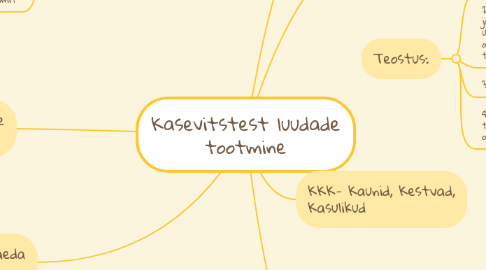 1. Oleneb luudade kogusest, müüme neid kas poodides või külalaatadel
2. Guidelines
2.1. Anything goes!
2.2. No criticism or flaming allowed
2.3. The Wilder The Better
2.4. Quantity is Quality
2.5. Set a Time Limit
3. uurime, mis ajal on kõige targem kasevitsasid korjata.
4. Kuidas neid peab ette valmistama jms.
5. Tutvume luua valmistamise kunsitga
6. Kõigile, kes soovivad oma aeda korras hoida
7. Teostus:
7.1. 1. Kogume metsast kaseoksi
7.2. 2. Lõikame 4–6 sentimeetrise jämeduse ja kuni pooleteise meetri pikkuse ümara puulati, mis on luuapoolset otsast 20–30 sentimeetri ulatuses teravaks tahutud
7.3. 3. Paneme traadi abil kokku luua
7.4. 4. Paneme internetti kuulutuse ja teeme Facebooki lehe, kus reklaamime oma luudasid.
8. KKK- Kaunid, Kestvad, Kasulikud