Networked Printers Troubleshooting
by RYAN SMITH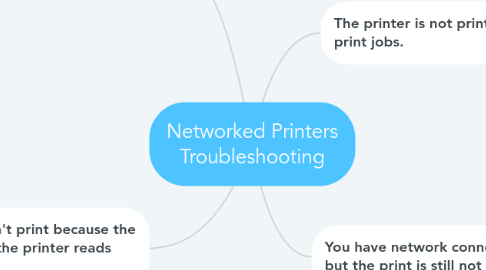 1. The printer is not printing any print jobs.
1.1. Check the network cable and make sure it is securely connected (Click here). Check to make sure there is network connectivity with the printer. Check for an LED light where the network cable connects to the back of the printer. Make sure you are printing to the printer in your room. (Click here) Sometimes schools have multiple network printers loaded on each computer. Your print jobs may have been sent to another printer in the building (I.E. computer lab). Check which printer you are sending the document to, through the print button through the file menu.
2. You have network connectivity, but the print is still not printing.
2.1. Check that the printer is on-line. Click the Start Button-Settings-Printers, and Right-click your printer. If there isn't a checkmark by "Set as Default", left click that option to select it. (Click here) Make sure your printer can print. Hit the button on your printer to print a test page. (Consult the laser printer section for more troubleshooting solutions.) There may be a paper jam. Check for one, and remove the jam carefully. You may be low on toner. Remove the toner cartridge, and shake it or replace it.
3. You can print to the printer from one computer but not another.
3.1. There is a local issue with the affected computer. Check to make sure you have a network connection to the affected computer. Consult the Networking section for more information about troubleshooting procedures. Try printing from a different application. If problem persists, contact your technology coordinator.
4. Printer won't print because the display on the printer reads busy.
4.1. Sometimes print jobs get stuck in the queue (Click here) and will need to be deleted before anyone else can print. To delete a print job, press the Cancel button on the printer. (Click here) You can also delete your own jobs by clicking Start-Settings-Printers-double clicking the printer and delete the job from the list. The printer may need to be powered off for 1 minute to clear out its internal memory.