Collaborative Learning - defined as learning that occurs between students who are actively involved in their own learning, with an emphasis on it being continuous.
by Kerri Viney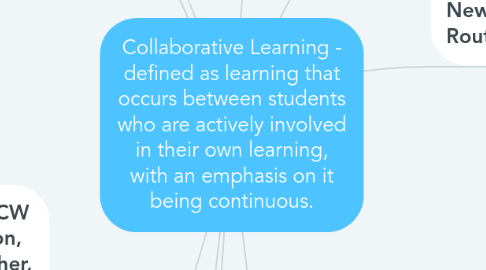 1. Collaborative learning processes assist students to achieve richer knowledge generation through shared goals, shared exploration, and a shared process of meaning making Brindley, Walti & Blaschke (2009)
1.1. Seven strategies for eliciting collaboration: 1. Facilitate team development and skills, 2. Balance structured work and learner autonomy, 3. Try to build a sense of community, 4. Monitor activities, 5. Ensure relevance of tasks (authenticity), 6. Choose tasks that need to be completed collectively, and 7. Set aside enough time for the task. (Brindley, Walti & Blaschke, 2009)
2. Personal learning network
3. Different types
3.1. Community of practice
3.2. Assessments
3.2.1. Assessments are crucial as they assist with learning and development of the students (Cowan). For Collaborative learning assessments that include both peer and lecturer are crucial as it assists with developing the scaffolding of learning.
4. Peer evaluations can be used as assessment in collaborative learning groups. They send a signal to group members that there will be consequences for non-participation. It has been found that as the number of peer evaluations during a project go up, the incidence of social loafing goes down (Aggarwal, P., & O'Brien, C. 2008).
5. Collaborative learning is based on social constructivist theory
5.1. Social connections are important for students to make meaning of knowledge. (Vygotsky, 1978)
6. Community of Inquiry: (OCW Model) Reference: Garrison, D. R., Anderson, T., & Archer, W. (2000). Critical inquiry in a text-based environment: Computer conferencing in higher educationmodel. The Internet and Higher Education, 2(2-3), 87-105.
6.1. social presence: ability of participants to identify with the community
6.2. teaching presence: the design, facilitation, and direction of cognitive and social processes for the purpose of realizing personally meaningful and educationally worthwhile learning outcomes
6.3. cognitive presence: extent to which learners are able to construct and confirm meaning through sustained reflection and discourse
7. Core design principles of Collaborative Learning Reference: Harasim, L. (2012) Learning Theory and Online Technologies New York/London: Routledge
7.1. idea generating: this is literally brainstorming, to collect the divergent thinking within a group
7.2. idea organising: this is where learners compare, analyse and categorise the different ideas previously generated, again through discussion and argument
7.3. intellectual convergence: the aim here is to reach a level of intellectual synthesis, understanding and consensus (including agreeing to disagree), usually through the joint construction of some artefact or piece of work, such as an essay or assignment.
8. Success of Collaborative Learning depends on the following: Reference: Bates, A. and Poole, G. (2003) Effective Teaching with Technology in Higher Education: Foundations for Success San Francisco: Jossey-Bass
8.1. appropriate technology
8.2. clear guidelines
8.3. student orientation and preparation
8.4. clear goals
8.5. choice of appropriate topics
8.6. defining clearly learner roles and expectations
8.7. monitoring the participation of individual learners, and responding accordingly
8.8. regular, ongoing instructor 'presence'
8.9. ensuring strong articulation between discussion topics and assessment
9. Advantages of Collaborative Learning
9.1. Deeper understanding
10. Limitations of Collaborative Learning:
10.1. does not scale easily
10.2. requires highly knowledgeable and skilled instructors
10.3. limited number of learners
10.4. likely to accommodate to the epistemological positions of certain faculties and instructors e.g humanities