Meinhard v. Salmon
by Bryan Jen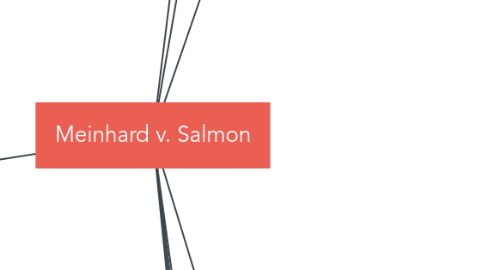 1. Facts
1.1. Parties
1.1.1. Plaintiff: Morton H. Meinhard
1.1.1.1. Capital investor
1.1.1.1.1. Joint venture partner with Salmon
1.1.2. Defendant: Walter J. Salmon
1.1.2.1. Lessee of the Hotel Bristol from Elbridge Gerry for 20 years, entered into joint venture with Morton Meinhard to raise funds
1.1.3. Elbridge T. Gerry
1.1.3.1. Owner of the Hotel Bristol in Midtown Manhattan, leased building to Walter Salmon for 20 years
1.2. What Happened
1.2.1. 1902, Salmon bought a 20-year lease for Hotel Bristol with plan to convert hotel into shops/offices
1.2.1.1. Entered a joint venture with Meinhard. Meinhard provided the capital and Salmon managed the business.
1.2.1.1.1. Written agreement detailed profit sharing for 20 years.
1.2.1.1.2. Meinhard given sole power to assign the lease during term of joint venture.
1.2.1.1.3. Joint venture ends at end of the lease.
1.2.2. 4 months prior to lease expiration, hotel's owner, Elbridge Thomas Gerry, negotiated a new lease agreement with Salmon to redevelop the property
1.2.2.1. Salmon signed the new lease agreement as an individual and did not inform Meinhard
1.2.2.1.1. Meinhard discovers the new partnership one month prior to lease expiration. Requests the new lease be part of the Meinhard-Salmon agreement.
1.3. Procedural History
1.3.1. Meinhard made a demand to Salmon upon discovery of the lease between Gerry and the Midpoint Reality Company.
1.3.1.1. The demand was that the lease be held in a trust as an asset of the venture.
1.3.1.1.1. Salmon refused the demand.
1.3.1.2. The demand included an offer to share the personal obligations incidental to ownership of the lease.
1.3.2. Meinhard filed a suit against Salmon in response to the refusal of his demand.
1.3.2.1. A referee gave judgement for the plaintiff.
1.3.2.1.1. Limited plaintiff's interest in the lease to 25%
1.3.3. Judgement was appealed by both Meinhard and Salmon to the Appellate Court.
1.3.3.1. The original judgement was modified to expand Meinhard's equitable interest in the lease to 1/2 of the whole lease.
1.3.3.1.1. Modification also expanded Meinhard's attendant obligations equal to the share of equity.
1.3.4. Salmon appealed the expansion of equitable interest to the Court of Appeals of New York.
2. Issue
2.1. Whether a business partner has the fiduciary duty to inform co-partner of a business opportunity that arises during the course of a joint venture.
3. Rule of Law
3.1. New York Consolidated Laws, General Obligations Law - GOB Section 5-1505(2): "fiduciary duties include but are not limited to..."
3.1.1. "To act according to any instructions from the principal or, where there are no instructions, in the best interest of the principal and to avoid conflicts of interest."
3.1.2. "To keep a record of all receipts, disbursements, and transactions entered by the agent on behalf of the principal and to make such record and power of attorney available to the principal or to third parties at the request of the principal."
3.2. King v. Barnes
3.2.1. Coadventures are subject to fiduciary duties akin to those of partners.
3.3. Wendt v. Fischer
3.3.1. Joint adventurers such as copartners, owe to one another, while the enterprise continues, the duty of the finest loyalty.
3.3.1.1. The courts have be uncompromising in maintaining the rigidity of this tradition.
3.4. Mitchell v. Read
3.4.1. Authority is, of course, abundant that one partner may not appropriate to his own use a renewal of a lease, though its term is to begin at the expiration of the partnership.
3.4.1.1. One partner may be free without restriction to buy in the reversion if the business is conducted such that their exclusion would eliminate the good will value of the firm if:
3.4.1.1.1. Good will is the chief element of the enterprise's value
3.4.1.1.2. Good will is dependent on continuity of possession.
3.4.2. One partner may not renew the lease, but may purchase the reversion if he acts openly and fairly.
3.5. Cassels v. Stewart
3.5.1. If a partner wishes to enjoy the protections of the law pertaining to partnerships then:
3.5.1.1. That partner is bound by his obligation to his copartners to not separate his interests from theirs, But, if he acquires any benefit, to communicate it to them.
3.6. Clegg v. Edmondson
3.6.1. There may be no abuse of special opportunities growing out of a special trust as manager or agent.
3.7. Beatty v. Guggenheim Exploration Co.
3.7.1. The defense that a fiduciary is bound to risk his money or go into enterprise at all is not valid.
3.7.2. A constructive trust is the remedial device through which preference or self is made subordinate to loyalty of others.
3.8. Partnership Law (Cons. Laws, c. 39) §53, subd. 1 (October 1, 1919)
3.8.1. A conveyance by a partner of his interest in the partnership does not itself dissolve the partnership.
3.8.2. Nor does it as against the other partners in the absence of agreement entitle the assignee, during the continuance of the partnership to:
3.8.2.1. Interfere in the management or administration of the partnership business or affairs
3.8.2.2. Require any information or the account of partnership transactions
3.8.2.3. Inspect the partnership books
3.8.3. Entitles the assignee to receive in accordance with the contract the profits to which the assigning partner would otherwise be entitled.
4. Analysis/Application
4.1. Timing of the new business opportunity.
4.1.1. Getty approached and conducted negotiations with Salmon during the joint venture lease.
4.2. Extent of fiduciary duty for a joint venture
4.2.1. Traditionally, member of joint venture only had duty to refrain from harming the rights of the other members
4.2.1.1. Did Salmon harm rights of Meinhard? He already helped make healthy profits for him during their joint venture with first lease.
4.2.1.1.1. Salmon deliberately did not disclose the second lease opportunity to Meinhard.
4.2.1.1.2. Does he have duty to present second opportunity to Meinhard?
4.3. Justice Cardozo ruled that Salmon held the Bristol Building lease as a fiduciary, for himself and another, sharers in a common venture.
4.3.1. A partner or trustee is held to something stricter than the morals of the market place.
4.3.1.1. Not honesty alone, but the punctilio of an honor the most sensitive, is then the standard of behavior.
4.3.2. Justice Cardozo deemed that due to Salmon's sole management position in the partnership, that to a reasonable observer, it was not obvious that Meinhard was a fiduciary in a joint venture.
4.3.2.1. The fact that Salmon was in control with exclusive powers of direction charged him with the duty of disclosure.
4.3.2.1.1. Only through disclosure could the opportunity be equalized.
4.3.3. If this fact had been made clear, it is reasonable to assume that Mr. Gerry would have presented the opportunity to both partners.
4.3.3.1. The pre-emptive opportunity that Salmon created for himself by denying the knowledge of the opportunity eliminated Meinhard's chance to compete for the ambitious lease agreement.
4.3.3.1.1. Had Salmon notified Meinhard of the opportunity and won the lease award though competition, Salmon would not have had any duty to the partnership.
4.4. J. Cardozo rules that at the option of Salmon, the lease agreement should include the attachment of shares of stock.
4.4.1. Shares of stock will allow Salmon to execute an assignment of the lease if he so wishes at a later date.
4.4.2. Equal division of shares between Salmon and Meinhard would deprive Salmon of the control and management position he exercised in the original partnership agreement.
4.4.2.1. Salmon should receive an additional share to preserve this control and management position in the partnership agreement.
4.5. Justice Cardozo examines the plausibility that Salmon did not owe Meinhard disclosure of the opportunity due to their roles in their joint venture.
4.5.1. Assumes Salmon acted in good faith assuming that the joint venture would dissolve at the termination of the original lease agreement.
4.5.2. Salmon has invested time, labor, and money.
4.5.3. Meinhard has only invested money.
4.5.3.1. Meinhard has been compensated well and in accordance with the partnership agreement.
4.5.4. Justice Cardozo citing Wendt v. Fischer rules that these facts do not have pertinency in this case.
4.5.4.1. The rule of undivided loyalty is relentless and supreme for partnerships.
4.5.4.1.1. The exception to this ruling would be if the business opportunity was incidental to Salmon's position as manager and not because of it.
4.6. Justice Cardozo examines the equitable interest of the lease agreement and the allotment to Salmon and Meinhard.
4.6.1. J. Cardozo rules that he is in agreement with the lower court opinion that Meinhard's equitable interest shall be measured by half of the entire lease agreement.
4.6.1.1. The entire property is covered by the "keystone" Bristol Building.
4.6.1.2. Physical division is impractical
4.6.1.3. The measurement of Meinhard's equitable interest by the whole lease agreement would be disputable if he was not willing to assume an equal share of liability.
4.6.1.3.1. This is not the case and Meinhard did agree to a share in liability equal to half of the entire lease agreement.
4.7. Justice Cardozo examines the fact that Salmon assigned the right, title, and interest in and to the the agreement with his coadventure to his wife in 1917.
4.7.1. Meinhard did not object to the assignment and thereafter made payments directly to Salmon's wife.
4.7.2. Neither by word or by act did either partner manifest a choice to view the enterprise as ended.
4.7.2.1. The purpose of the assignment was understood by all parties involved as a tax mitigation strategy.
4.7.2.1.1. There was no indication express or implicit that the partnership had ended or that Meinhard was relieved of his financial obligations.
4.7.2.1.2. By tacit, if not express approval, Salmon continued and preserved the partnership for 5 years after the assignment to his wife.
4.7.2.2. Contracts involving joint ventures must now be clear and unambiguous about the responsibilities and profit/loss sharing of the parties involved.
5. Conclusion
5.1. Salmon breached fiduciary duty when he did not inform Meinhard of the new business opportunity.
5.1.1. Equates the level of loyalty/duty in a joint venture to that of a partnership.
5.2. Justice Cardozo modified the lower appellate courts decision and affirmed the decision as modified.
5.2.1. The judgement was modified by providing that at the option of the defendant Salmon there may be substituted for a trust attaching to the lease a trust attaching shares of stock.
5.2.1.1. The result is that the shares will be split evenly between Salmon and Meinhard with one additional share being allotted to Salmon.
5.2.1.1.1. Thus granting a controlling stake in the partnership to Salmon.
6. Impact
6.1. A.G. Homes, LLC v. Gerstein (2008)
6.1.1. The New York Supreme Court found that Gerstein breached his fiduciary duties to A.G. Homes by "concealing his dealings and failing to close pertinent information to the defendant."
6.1.1.1. Meinhard v. Salmon was cited numerous times in the case as fiduciary duties precedent.
6.2. R.C. Gluck & Co. (1960)
6.2.1. The New York Supreme Court found that Tankel breached his fiduciary duties by failing to "account for any secret profits that he has made" through his purchase and sale of foreign stamps through the joint venture.
6.2.1.1. Judge Cardozo's words in Meinhard v. Salmon were repeated to emphasize that "Joint adventurers, like copartners, owe to one another, while the enterprise continues, the duty of the finest loyalty."
7. Importance
7.1. Clear impact to business professionals
7.1.1. If involved in a joint venture based in New York, this decision has established the fiduciary duties of each party.
7.1.1.1. It makes clear that parties are responsible for maintaining business transparency with one another
7.1.1.2. Requires parties to divide profits and losses in an equitable manner as stated in their contract.
8. Influence
8.1. Contract law was heavily shaped by this decision
8.2. The need for transparency in joint ventures may have influenced technology in the decades to come
8.2.1. Now evident in the form of electronic file sharing and email communication, among other things.
9. The Glass May Be Half Full for Salmon
9.1. Although initially the decision was seen as a loss for Salmon, turns out that the Great Depression was about to occur and this decision meant he shared significant losses with Meinhard during this time.
9.2. Salmon sent Justice Cardozo flowers on the anniversary of the decision as a thank you for saving him from financial ruins.