Fall of venice
by Eileen Teoh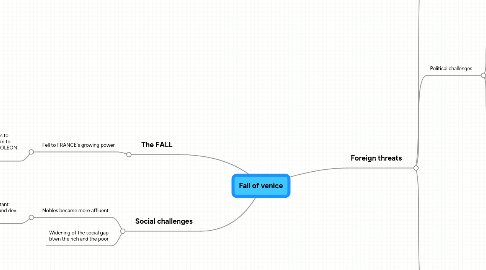 1. Foreign threats
1.1. Maritime competetion
1.1.1. Discovery of new sea routes
1.1.1.1. dESTROYED VENICE MONOPOLY OF THE LUCRATIVE SPICE TRADE AND GREATLY REDUCED THE PROFITS OF THE VENETIAN TRADERS
1.1.2. New trade rivals
1.1.2.1. Trade rivals from Holland and Britian
1.1.2.2. Dutch traders bypassed venice togo to East to obtain their goods(spices)
1.1.2.3. Lost it's economic attractiveness due to its insistence on maintaining its monopolistic position
1.2. Political challenges
1.2.1. Incapable leadership
1.2.1.1. Faced the challenge of a shrinking no. of the nobility which held many appointments inthe highest offices in the govt.
1.2.1.2. Many policies were meant to preserve the power, prestige and wealth of the nobles rather than for the good will of the city state
1.2.2. Over-dependence on merchanaries
1.2.2.1. Paid soldiers didn't remain loyal to Venice as they cuold be offered with higher salaries in other cty states
1.2.3. Corruption in the government
1.2.3.1. Many poor nobles were willing to sell their votes at a high price
1.2.3.2. Sale of positions to raise funds during crisis led to incompetent leaders taking over positions in the government.
1.3. meeting the challenges of a growing city stste
1.3.1. The ottoman empire
1.3.1.1. Its expansion poses a threat to the venetians who have to give up some territories as they were unable to fight back the large ottoman territories as to avoid losses
1.3.1.2. Attacks launched at the venetians to weaken their control of the adriatic sea
1.3.1.3. Started sea campaigns and wars with the venetians to securce more sea territories and these led to venice's decline in power
1.3.2. Involvement in the mainland
1.3.2.1. Venice tried to protect its territories and commercial interests by taking advantage of the rivaly among the mainland states
1.3.2.2. Venice offered to help one fight against another
1.3.2.3. Disadvntages included the uncertainty on the benefit for venice and over-dependence on mercenaries to maintain its army strength.
1.3.3. The league of Cambrai
1.3.3.1. It'sa military alliance to Venice ,consisting of the most of the majorpowes in Europe
1.3.3.2. Aimed to reduce the power of and divide Venice's territories
1.3.3.3. Succesfully captured many of Venice's territories through battles which greatly weakened it resources
2. Social challenges
2.1. Nobles became more affluent
2.1.1. Became less involved in important matters such as adminstrtion and dev. of the city stse
2.2. Widening of the social gap btwn the rich and the poor
3. The FALL
3.1. Fell to FRANCE's growing power
3.1.1. as there were no capable nobles to orgganise an army and lead them to defeat the french army by NAPOLEON BONAPARTE