Mind Map for Culture Exchange Agency
by Kristy Weijia Ren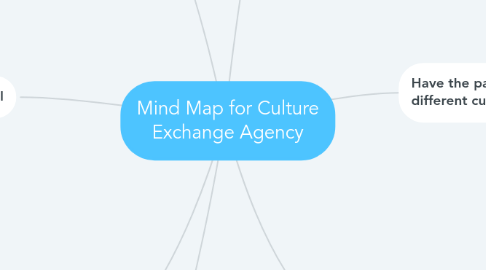 1. Have experiences working with people who from the different culture backgrounds than myself.
1.1. It would be fun to understand others' culture
1.2. Great life experiences
1.3. Learning is a great inspiration in life
1.4. Discovery true callings
2. Have the passion and interests in different cultures
2.1. To experience personal growth
2.2. To positively impact the future of our sorld
2.3. To live a deep sense of purpose
2.3.1. To be satisfied
2.3.2. Well-round human-beings
2.3.3. Discover the world by communicate with others
2.4. Enjoy interpersonal interaction
2.5. Working with young generation
2.5.1. Make myself feel younger
3. Being able to accept the culture differences
3.1. Different cultures would have differences, to avoid culture conflicts and try to embrace the differences
3.2. The priority is to accept differences, not judging
3.3. Have the eyes of discover the beautifulness
3.4. Keep the "good" culture differences and stay natural for the ones might not work for you
4. Being at least Bilingual
4.1. Speak as many language as you can
4.2. Be able to say simple words in clients' home language, they will be impressed
4.3. When you fluent in English, you would find out that learning french would be really fun because English has the similar words pronunciations and grammars to french
4.4. I am working on my Korean language learning recently and it is very fun to speak and learn
4.5. It is always a great way to understand a nation's history through the literature
4.6. Language is one of the great way to start a freindship
5. Doing this job more like a life experience
5.1. This job requires a lot traveling and personally I love traveling around
5.2. It is a great way to gain personal experiences while finishing up the job
5.3. Enjoy life while making money
6. Have good people skills
6.1. Communication skills
6.2. Social skills
6.3. The skill to deal with the problems in all types
6.4. opportunities to increase the confidence level
6.5. impact knowledge and wisdom
7. Have the abilities to think on students and their parents' aspects
7.1. Consider issues and cases in many aspects, clients first
7.2. It is also a good life practice of being selfless
7.3. When you think on others' perspectives, others would think on your perspectives too.