Guide to watching & making PSAs
by The Media Spot, LLC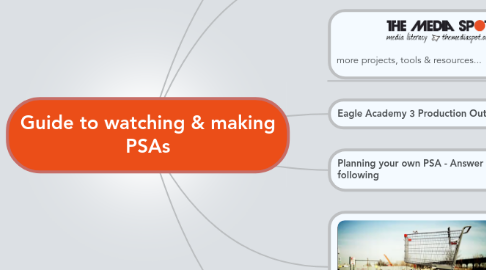 1. What is a PSA?
1.1. Definitions
1.1.1. Usually 30 seconds to 1 min
1.1.2. Like a commercial but instead of selling something, it's sharing helpful ideas, knowledge or information with the public.
1.1.3. Can take a lot of different forms
1.1.3.1. direct speaking to audience
1.1.3.2. skit
1.1.3.3. no dialog, but visual story
1.1.3.4. narration, graphics and/or words on screen
1.2. Notes from previous Class Discussions
1.2.1. Commercials persuade to buy something; PSA persuades you to do something a) to help people, b) to do stuff to be safe; to help animals; to help people who can't help themselves with videos. "Other people have to be their voice"
1.2.2. A Public Service Announcement
1.2.3. To persuade people to do something.
1.2.4. Something that helps people who don't have access to things get things.
1.2.5. People who can't speak for themselves:
1.2.5.1. Homeless people
1.2.5.2. Endangered Animals
1.2.5.3. People who can't speak
1.2.5.4. People afraid to speak for themselves
1.2.6. Ideas to make you more aware of a) problem, b) or something important to do, c) or something that could make you a better person.
2. Teach the community to recycle in the proper bins...
3. more projects, tools & resources...
4. Eagle Academy 3 Production Outlines
4.1. Green Eagle Introduction
4.1.1. what we do
4.1.1.1. educate the rest of the school
4.1.1.2. improve school and home environment
4.1.1.3. main project: recycling
4.1.2. where you can find us
4.1.2.1. encourage your school to join the citywide effort!
4.1.2.2. contact the NYC Department of Sanitation's Zero Waste Program
4.1.3. ID the green team.
4.1.4. Heroes of the Environment
4.1.4.1. We grade each class on how well they recycle...
4.1.4.2. We are trying to teach others how to sustain their school environment to stay clean and healthy.
4.1.5. Backgrounds
4.1.5.1. Trees outside
4.1.5.2. tidy recycling bins
4.1.5.3. pictures from Ms. Jackie
4.1.5.4. green team members recycling bottles
4.1.5.5. Dedicated to all past EASI student Green Team Members
4.2. Demonstrate how to Recycle at Eagle Academy
4.2.1. Show people throwing them in the wrong places
4.2.2. Show the sorting that the Green Team does
4.2.2.1. Interview - talk about the experience of sorting the garbage.
4.2.3. TONE - Serious
4.2.4. Starts with footage at Brooklyn Bridge Park
4.2.5. Starts with facts about Garbage...
4.2.5.1. NEED MORE FACTS FROM JACKIE SCRIPt
4.2.6. Shots recycling at Eagle Academy
4.2.7. We take out garbage and recycling that is not in the correct bin. (so the custodian does not throw out the bottles with the garbage.)
4.2.8. Bottles -- ask a teacher to throw out your bottle in the hallway
4.2.9. Bins: Added lists and charts by ordering decals
4.2.10. To get bins etc. go to...
4.2.11. Find out from your school Green Team how you can recycle and help save the Environment.
4.3. PSA - "Don't you know!?" Skit - Plastic in the Ocean
4.3.1. Goal: Convince people to recycle by illustrating the impact of plastic in the ocean
4.3.2. Production Elements
4.3.2.1. Brooklyn Bridge Park Shoot
4.3.2.1.1. Talking head shots
4.3.2.1.2. SKIT - Throwing bottle in the ocean
4.3.2.2. Canva Graphics
4.3.2.2.1. Slogans
4.3.2.2.2. Graphics
4.3.2.2.3. Backgrounds
4.3.2.2.4. Ocean creature
4.3.2.3. Green Screen
4.3.2.3.1. record facts about the ocean
4.3.2.3.2. record Kerelous' face on an ocean creature
4.3.3. Tone: Funny, and empathetic to animals
4.3.4. first 5 seconds -- hook the audience
4.3.5. tone: funny
4.3.5.1. cartoon showing 3 bins -- they are all getting upset about people throwing the wrong garbage into the bins.
4.3.5.2. film kids using the wrong bins
4.3.5.3. natural shots of students putting things in the wrong bins
4.3.5.4. kids are putting garbage in the wrong bins on purpose and into the ocean.
4.3.5.4.1. kid is in the form of a fish looking up at the kid throwing garbage into the ocean
4.3.5.4.2. kid dreams that he is the garbage that traps an animal
4.3.5.4.3. they wake up and see
4.3.5.5. the mischievous kids have dreams - in the problems that animals are encountering
4.3.6. why: to save the world
4.3.6.1. clean oceans
4.3.6.2. show cause and effect
4.3.6.3. tone: make people sad
4.3.6.4. hook people by showing how it hurts animals
4.3.6.5. 10 statements through working with Ms. Jackie about WHY we need to address this problem.
4.4. Editing Assignments for June 23
4.4.1. Ending Titles for "Don't you Know"
4.4.1.1. This has been a Green Eagle's Production!
4.4.1.2. Created at Eagle Academy...
4.4.1.3. DO NOW: What should people you just got excited about recycling DO NOW?
4.4.1.4. KAMIL: More facts on Ocean Pollution
4.4.1.5. Visit TeamSeas.Org $1 = 1lb of Trash Out of the Ocean.
4.4.1.6. Brought to you by the Green Eagles of Eagle Academy for Young Men of Staten Island
4.4.2. Intro to the Green Eagles
4.4.2.1. Eagle Sound Effect
4.4.2.2. Photo Selection to go with the narration
4.4.2.3. placement of students over the green screen
4.4.2.4. Music (Envato Elements)
4.4.2.5. Additional Background Video/Images?
4.4.2.6. CLEAR
4.4.2.6.1. Confident
4.4.2.6.2. Leadership
4.4.2.6.3. Effort
4.4.2.6.4. Academic Excellence
4.4.2.6.5. Resilience
4.4.3. HOW TO RECYCLE...
4.4.3.1. How does the footage from BB Park mix in?
4.4.3.2. How do we use the photos and narration?
4.4.3.3. How does the Behind the Scenes mix in?
4.4.3.4. Music (Envato Elements)
4.4.3.5. Additional Background Images of Recycling?
5. Planning your own PSA - Answer the following
5.1. What's the problem you want to solve?
5.2. What do you want people to do or understand?
5.2.1. show people what you are doing around the school community
5.2.2. stopping food waste
5.2.3. putting bottles/recycling in the right place
5.2.4. show them the correct way (signs, bins, etc.)
5.3. Who is your audience?
5.4. What tone and strategy could you use help that audience to watch, and learn from your PSA?
5.5. Production Roles
5.5.1. screenwriter
5.5.1.1. develops the story on paper, thinking about visual elements of the story while writing
5.5.1.2. start from a piece of persuasive writing
5.5.2. storyboard artists
5.5.2.1. decide how your message will use video, image, audio and text
5.5.2.2. storyboard template
5.5.3. researcher
5.5.3.1. gathers facts, quotes, still images, or other artifacts from the Internet
5.5.4. director
5.5.4.1. guides the entire process artistically
5.5.5. producer
5.5.5.1. makes sure people in the group are getting their jobs done
5.5.6. cinematographer
5.5.6.1. takes photos & video based on storyboard drawings and directions
5.5.7. actors
5.5.7.1. people on camera who act out the script
5.5.8. narrators
5.5.8.1. record voice over narration with the editors
5.5.9. script supervisor
5.5.9.1. makes sure the all story elements in the script are represented when storyboarding and filming
5.5.10. editor
5.5.10.1. assembles the video in iMovie and works with the director on sequence and timing
5.5.11. sound recorders
5.5.11.1. make sure the set is quiet, and that all that needs to be heard is recorded
5.5.12. still photographer
5.5.12.1. document the process in class
5.5.12.2. take photos that will show people how a PSA is made
6. Deconstruct PSA Examples
6.1. WATCH: Examples of Environmental PSAs (answer the questions below after each)
6.1.1. FACTS/INFO, VISUALS & NARRATION: Recycling PSA
6.1.2. SKIT: Smokey the Bear Bear Hug
6.1.3. SKIT: Recycle Like Everyone's Watching - Keep America Beautiful PSA
6.1.4. SKIT: Food Waste (:60 PSA)
6.1.5. REALISTIC + NARRATOR: PSA Recycling (Short Film)
6.1.6. GRAPHICS: Recycling PSA
6.1.7. SHORT FILM: #CleanSeas Break-Up PSA: "It's not me, it's you."
6.1.8. FANTASY/ACTION MOVIE SKIT: Are You Ready to Vote Like a Madre to Fight Climate Change?
6.2. Who made the PSA?
6.2.1. individual?
6.2.2. organization?
6.2.3. for/non profit?
6.3. Who is the audience?
6.3.1. age group?
6.3.2. location?
6.3.3. multiple groups of people?
6.4. What's the message? What do they want their audience to do?
6.4.1. What did they show and tell to get this message to their audience?
6.4.2. What information did they give the audience so that they can take action?
6.5. What is the tone? How do they want their audience to feel?
6.5.1. How did they use shots, images titles and sounds did they use to make their audience feel this way?
6.5.1.1. Flint: Water PSA Breakdown
6.5.1.1.1. Sad
6.5.1.1.2. used people that otherwise look like "us" to help us connect to them...
6.5.1.2. Karlson:
6.5.1.2.1. Help other places without clean water.
6.5.1.2.2. Makes you feel thankful by looking at people who have less.
6.5.1.2.3. They want us to go to their website
6.5.2. Why would they choose that tone for their mission?
6.6. What make it an effective PSA?
6.6.1. Production elements
6.6.2. Information delivery
6.6.3. Call to action
6.7. More PSA examples on themediaspot/diigo library
7. Eagle Academy Planning TIPS 3 PSAs
7.1. Challenges for all 3 PSAs
7.1.1. Convince People to Care about Recycling
7.1.2. Teach the community how to recycle correctly in School/Afterschool/Cafe
7.1.3. Make the community aware of the Green Eagles as the activists for the environment
7.2. Resources for facts, places for people to go to find out more, etc.
7.2.1. Grow NYC Zero Waste
7.2.2. Students have been playing a sorting game on DSNY website
7.2.2.1. https://www.sanitationfoundation.org/follow-your-waste
7.2.3. Jackie's list of articles and facts
7.3. What do you want your community to do after watching your PSAs?
7.3.1. Use Recycling & Composting Bins Correctly
7.3.1.1. Cafeteria - Composting and other Bins (Brown Bins, White Buckets)
7.3.1.1.1. Give the information from the informational cards
7.3.1.2. Green Bin - Paper
7.3.1.3. Blue - Bottles
7.3.1.4. Black - General Waste
7.3.1.5. Afterschool Recycling
7.3.1.5.1. Ms. Velasquez - different programs
7.3.2. Get ready for the Schoolwide Classroom Recycling Contest
7.3.3. Join the Green Eagles next year?
7.3.4. Green Eagles, add to this...