Rapid eLearning Workshop with Tom Kuhlmann
by
Toni Krasnic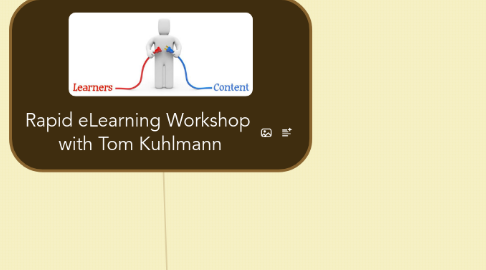 5.0
stars -
2
reviews range from
0
to
5
Rapid eLearning Workshop with Tom Kuhlmann
Tom Kuhlmann shares some practical tips on building effective e- learning.
Tom Kuhlmann
David Anderson
Articulate
How do you get your classroom training online?  Use a rapid e- learning application. That"s easy enough.  How do you build good courses with limited resources and no time?  Well, that"s a bit more challenging.  Join Tom as he shares some practical tips on getting the most out of the resources you have to build effective e-learning. You"ll learn how to: Simple way to get started and move your ILT content online Learn to coach your subject matter experts so that you get the information you need Explore some techniques that will help you create the right look and feel for your courses
eLearning Story
Essentials
FrankenCourse
What is a course?
Viewing or Doing?
Course Structure (parts)
Pre-Build Common Layouts/Screens
Graphic design
Many e-learning courses are information dumps that rely too heavily on pushing information out to the learner.  But is that the best way to design courses and will you get the results you need?  In this session, we"ll explore the difference between information and interactivity and ways you can quickly convert information- dumps to interactive e-learning. Things covered in this session: What is interactivity? How to create interactive content. Quickly build re-usable, interactive models.
Make it relevant
Two parts
Set clear expectations
Engage the senses
Let them choose how to learn
3Cs of scenarios (branched interactions)
What can you do on the screen?
Instructional Design Models
Additional resources on the Articulate blog