Concept Mapping & Mind Mapping Research
by
Toni Krasnic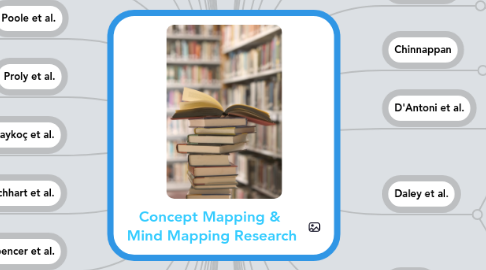 5.0
stars -
8
reviews range from
0
to
5
Concept Mapping & Mind Mapping Research
Ahlberg et al.
An overview of educational graphic knowledge representation tools is created. The tree of Porphyry is the earliest known example. Several educational graphic knowledge representation tools are discussed. Most important of them are mind mapping and concept mapping. They are compared using the latest special soft wares available. CmapTools is presented as the only known free software which allows users to build knowledge both individually and collaboratively, using all digital resources of their own and in WWW, simply dragging and dropping, and clicking to open or to publish in WWW.
There are different versions of concept mapping. The purpose of this paper is to compare some of them and to explicate the main differences. Proper concept mapping methods include all methods of knowledge graphic presentation that are clearly based on the seminal writings of Novak and his research group from 1981 to 2002. Some writers may use the term concept mapping, although one of the most basic requirements is not fulfilled: No meaningful propositions are produced out of linked concepts. Sometimes no links at all are present, only concepts spread in a conceptual space. In "the Novakian Standard Concept Mapping Format" there are some unnecessarily complex rules. Critical reflection on alternative ideas about concept mapping may suggest alternative and better ideas in the future.
Al-Jarf
Post-test results showed significant differences between the experimental and control groups as a result of using the mind-mapping software. Experimental students who used the mind-mapping software made higher gains in writing than control students who did not.
Anokhin
Using mind mapping for lesson planning can help teachers or trainers identify a logical plan or teaching route and increases recall of the subject matter. This can boost teaching confidence and facilitate the smooth running of programs.
Balim et al.
Learning techniques, which are based on the constructivist approach, give an opportunity for students to construct their knowledge by enabling the active participation.Mind mapping and concept mapping are the examples about the so-called techniques. Concept mapping is considered as a technique utilizing students to construct concepts and their relations with each other. Through the use of the mind mapping technique,students can not only construct concepts but also use both lobs of the brain for a permanent learning.This study includes concept maps and mind maps, which are prepared in computer environment, for the unit of "Light and Sound" in the the 6th grade Science and Technology Curriculum. There are also suggestions on the objectives of using this technique in the lessons, as well as important tips on preparing the maps.
Beel
In this demonstration-paper we introduce Docear, an'academic literature suite. Docear offers to scientists what an office suite like Microsoft Officeoffers to office workers. While an office suite bundles various applications for office workers (word processing, spreadsheets, presentation software, etc.), Docear bundles several applications for scientists: academic search engine, PDF reader, reference manager, word processor, mind mapping module, and recommender system. Besides Docear"s general concept, its special features are presented in this paper,namely a modular composition, free full-text access to literature, information management as mind map, automatic metadata extraction of PDFs and recommendations
The results presented in this paper come from an exploratory study of 19,379 mind maps created by 11,179 users from the mind mapping applications Docear and MindMeister. The objective was to find out how mind maps are structured and which information they contain. Results include: A typical mind map is rather small, with 31 nodes on average (median), where a seach node usually contains between one to three words. 12% of cases there are few notes, if any, and the number of hyperlinks tends to be rather low, too, but depends upon the mind mapping application. Most mind maps are edited only on one (60.76%) or two days (18.41%). A typical user creates around 2.7mind maps (mean) a year. However, there are exceptions which create a long tail. One user created 243 mind maps, the largest mind map contained 52,182 nodes, one node contained 7,497words and one mind map was edited on 142 days.
In this paper we present how sharing and utilizing mind maps could enhance search applications such as document search engines and recommender systems. In addition, we briefly present the first research results which indicate that mind maps can be used to determine document relatedness and therefore can enhance document recommender systems. We also discuss some challenges that information retrieval on mind maps will probably have to overcome.
Mind maps are used by millions of people. In this paper we present how information retrieval on mind maps could be used to enhance expert search, document summarization, keyword based search engines, document recommender systems and determining word relatedness. For instance, words in a mind map could be used for creating a skill profile of the mind maps' author and hence enhance expert search. This paper is a research-in-progress paper which means no research results are presented but only ideas.
Berry et al.
Using the principles of the scholarship of teaching and learning, we evaluated 2 learning strategies to determine if they could improve student exam performance in general psychology. After the second of 3 exams, we gave students the option of participating in a specific learning activity and assessed its impact using the third exam. In Study 1, participating students generated a minimum of 3 questions per week over course material. Lower performing students who participated improved their exam performance such that they were indistinguishable from stronger students who did not participate. In Study 2, students had the option of generating concept maps over course material. Generating concept maps significantly improved performance.
Brian et al.
Reports on preservice teachers" use of a concept-mapping tool to create/modify concept maps about science-related elementary curriculum- content knowledge. Data from interviews, journals, and analysis of the concept maps showed how the preservice teachers used the tool to construct their curriculum-content knowledge in the form of more powerful integrated patterns. The process enhanced their skills in planning instruction.
Cain
Objective of this study was to present a review of the literature and survey results of student satisfaction after using the mind map learning technique. Results showed that although the subject pool was limited to 14 students, 10 out of 14 agreed that the mind map learning technique enabled them to better organize/integrate material presented in the course, while only 2 disagreed. The final 2 students responded neutrally when asked if the mind map learning technique assisted them in organizing/integrating course material. However, these 2 students did agree the technique enabled them to recognize areas in which further study was necessary for them to adequately master the course material.
Canas et al.
Concept Maps are diagrams that represent organized knowledge (Novak & Gowin, 1984). This report is a summary and  integration of published literature on the uses of Concept Maps to support human learning and workplace performance. It contains a summary of studies pertaining to the effectiveness of Concept Mapping for these purposes, and a description of commercial products that support Concept Mapping and related activities. The main goal of this report is to identify and highlight areas of application of Concept Mapping for learning (training, knowledge sharing, etc.) and performance support (decision- aiding, knowledge preservation, etc.).
Chinnappan
Recent interest in the topic of knowledge bases for teachers of mathematics has led to a sustained analysis of how teacher knowledge influences interactions with their students. The results of this body of research have focused on identifying and describing the growth of mathematics teachers" content and pedagogical content knowledge. In particular, it has been argued that there is a need to examine how mathematics teachers who are new to the classroom construct and structure their knowledge base (National Council of Teachers of Mathematics, 2000). Here I examine this issue by exploring the role of an online mathematics learning forum in creating an environment within which a group of prospective teachers exchanged views about a topic on arithmetic. The online forum was established via WebCT. The results suggest that WebCT provided a convenient and non-threatening medium in which to generate descriptions about mathematics teachers" knowledge and understanding.
D'Antoni et al.
A learning strategy underutilized in medical education is mind mapping. Mind maps are multi- sensory tools that may help medical students organize, integrate, and retain information. Recent work suggests that using mind mapping as a note-taking strategy facilitates critical thinking. The purpose of this study was to investigate whether a relationship existed between mind mapping and critical thinking, as measured by the Health Sciences Reasoning Test (HSRT), and whether a relationship existed between mind mapping and recall of domain- based information. Although mind mapping was not found to increase short-term recall of domain-based information or critical thinking compared to SNT, a brief introduction to mind mapping allowed novice MM subjects to perform similarly to SNT subjects. This demonstrates that medical students using mind maps can successfully retrieve information in the short term, and does not put them at a disadvantage compared to SNT students.
Daley et al.
Despite the huge increase in the number  of  qualitative research studies conducted, using concept maps as a methodological research strategy has received little attention in recent literature. This paper  will discuss the connections between qualitative research and concept maps. Additionally, four strategies for incorporating concept maps in qualitative research will be presented along with sample maps for each strategy. Finally, advantages and disadvantages of using concept maps in qualitative research will be discussed.
The purpose of this integrative literature review is to summarize research on concept mapping and to offer ideas on how concept mapping can facilitate practice, research, and theory development within human resource development. In this review, more than 300 articles, written in both English and Spanish, presented at two different concept mapping conferences were reviewed. Six researchers reviewed the articles and created a matrix outlining the research studies, the methods, the findings, and the implications. This matrix was then used to conduct an in-depth analysis and identify six overall themes of the research presented. These themes were identified as (a) teaching and learning, (b) assessment and scoring, (c) knowledge development, (d) software development, (e) professional development, and (f) research methods. Finally, the identified themes were used to advance implications for the use of concept mapping within human resource development.
Davies
In recent years, academics and educators have begun to use software mapping tools for a number of education-related purposes. Typically, the tools are used to help impart critical and analytical skills to students, to enable students to see relationships between concepts, and also as a method of assessment. The common feature of all these tools is the use of diagrammatic relationships of various kinds in preference  to written or verbal descriptions. Pictures and structured diagrams are thought to be more comprehensible than just words, and a clearer way to illustrate understanding of complex topics. Variants  of these tools are available under different names: "concept mapping", "mind mapping" and "argument mapping". Sometimes these terms are used synonymously. However, as this paper will demonstrate, there are clear differences in each of these mapping tools. This paper offers an outline of the various types of tool available and their advantages and disadvantages. It argues that the choice of mapping tool largely depends on the purpose or aim for which the tool is used and that the tools may well be converging to offer educators as yet unrealised and potentially complementary functions.
Ellozy et al.
Research suggests that the use of concept maps enhances learning transfer and retention. This paper presents a case study on the use of a hybrid concept/mind mapping online strategy (E-mapping) to develop critical reading skills in first year Egyptian students enrolled at the American University in Cairo. Seventy students participated in the study and data were collected over two semesters. E-maps and assignment-specific rubrics were used to assess learning. Student feedback was collected via early and late semester surveys and a mid-semester assessment. Results show that E-mapping is a potentially powerful active learning tool which goes beyond developing strong reading skills and enhancing class participation. It enhances critical thinking and helps students acquire visualization skills by which they can communicate ideas using imagery. It is also an assessment tool that permits instructors to gain insight into their students' analytical and synthetic skills. Although the majority of students in this study recognized the benefits of E-mapping, many of them found it a time consuming approach and believed it represented too much work.
Evrekli et al.
The objective of this study was to examine the effectiveness of using the mind map study technique to improve factual recall from written information. Study showed that mind maps provide an effective study technique when applied to written material. Mind Mapping improved the long-term memory of factual information in their participants by 10%. However, before mind maps are generally adopted as a study technique, consideration has to be given towards ways of improving motivation amongst users.
The present study deals with the use of mind maps as an assessment tools. In the study, the mind maps prepared for the special teaching methods course by 30 pre-service teachers studying in the Department of Science Teacher Training of a university in Turkey in academic year 2008-2009 were assessed by using a scoring system to assess mind maps for pre-service science teachers. To ensure the reliability of the scoring system, the mind maps prepared by the pre-service teachers for the special teaching methods course were assessed by two expert raters and the assessment was repeated one week later. The reliability process for the scoring system was calculated by using inter- and intra-rater reliability values, intra-cluster correlation analysis,and variance analysis
Fonseca
In scientific research there is often the need to increase the organization of data and to optimize communication of results either in a conference or as a scientific article. Researchers should be able to externalize their critical thinking, their problem solving skills and their ability to interconnect knowledge. Concept maps are pedagogical tools that help researchers to structure their practical ideas and results in useful ways. Concept mapping were used extensively to communicate and clarify ideas, help researchers see the relationships and the organization among concepts, solve problems, and support the design of their work. In this study, concept maps were used as a research tool by a team of research scientists. Our intent is to provide a rationale  and explain the practical approach underlying our use of concept maps. A distinctive aspect of our use of maps is that rather than being only a tool for clarifying the ideas and results obtained, concept maps are tools that researchers can use to support their  diary work. A case study is described using three different projects: the first approach concerns the use of concept maps to analyse and review a scientific article, the second is the use of concept maps to design a scientific work and the third one is the use of concept maps in protocols or detailed methods section for laboratory work
Goodnough et al.
The use of mind mapping (MM), a visual tool developed by Buzan to improve note-taking, foster creativity, organize thinking, and develop ideas and concepts, was studied in a sixth- grade classroom with 16 students as an instructional and learning tool. In MM, a central focus or graphic representation of the problem is placed in the center of the page, and key words, connected to the central focus with lines, are used to represent ideas. Students perceived MM as an entertaining and interesting approach and thought that MM enhanced their learning. Most students preferred individual MM; some preferred group MM. The teacher enjoyed using MM and thought that it fostered student motivation in learning science.
Hay et al.
Findings – The concept-mapping method facilitates quick and easy measures of student knowledge- change so that teachers can identify the parts of the curriculum that are being understood and those that are not. This is possible even among very large student groups in the 50-minute slots that are allocated to so much teaching in higher education.
Henao-Calad
Purpose – The purpose of this paper is to explore the applicability of using concept maps in organizations where knowledge management is the goal. Design/methodology/approach – Based on the principles stated by Nonaka and Takeuchi about knowledge creation and conversion and on the work by Novak and Gowin on concept maps, the core idea is to present the use of concept maps as a technique that facilitates, in some cases, and supports, in others, the realization of the following knowledge conversion operations: socialization, exteriorization, combination and internalization. These are the operations that, according to Nonaka and Takeuchi (1999), allow for the transformation of individual knowledge into collective knowledge and vice versa. Furthermore, it aims to answer the question of how to support the process of knowledge management in an organization through the use of a software application like CmapTools. Findings – This paper shows that knowledge evolves through various stages, with particular characteristics that need to be acknowledged in order to be managed properly. Originality/value – The technique of employing concept maps is appropriate to sponsor and facilitate the transitions among these stages of knowledge. It even allows for the preservation of the valuable knowledge of a person through the management of individual knowledge or the knowledge of a group of persons in an organization. This, in turn, promotes knowledge management in the enterprise itself.
Holland et al.
Study illustrates the technique of mind mapping as applied in executive education and management development. Mind mapping brings a renewed sense of enthusiasm to the classroom because it tends to increase one's sense of competence in mastering the assigned materials. In effect, mind mapping serves the purpose of enhancing one's intrinsic motivation (i.e. those aspects of work that we do joyfully just for the sake of doing). Regardless of the reading load or complexity of the articles, mind mapping allows a user to grasp and depict the essence of each article on a single page. By analyzing a series of mind maps one is able to refine and integrate work across readings and articles into one coherent set of ideas, which are easily manageable and understood. The restriction of using just one page to capture the essence of an article or book chapter forces one to be efficient and thoughtful in choosing those concepts and ideas that are most important for understanding and for remembering.
Institute for the Advancement of Research in Education (IARE)
Visual learning strategies improve student performance. Scientifically based research cited in the literature review demonstrates that a research base exists to support the use of graphic organizers for improving student learning and performance across grade levels, with diverse students, and in a broad range of content areas. IARE conclusions from this review include: • Reading comprehension. Use of graphic organizers is effective in improving students' reading comprehension. • Student achievement. Students using graphic organizers show achievement benefits across content areas and grade levels. Achievement benefits are also seen with students with learning disabilities. • Thinking and learning skills. The process of developing and using a graphic organizer enhances skills such as developing and organizing ideas, seeing relationships, and categorizing concepts. • Retention. Use of graphic organizers aids students in retention and recall of information. • Cognitive learning theory. The use of graphic organizers supports implementation of cognitive learning theories: dual coding theory, schema theory, and cognitive load theory.
Karpicke et al.
Educators rely heavily on learning activities that encourage elaborative studying, while activities that require students to practice retrieving and reconstructing knowledge are used less frequently. Here, we show that practicing retrieval produces greater gains in meaningful learning than elaborative studying with concept mapping. The advantage of retrieval practice generalized across texts identical to those commonly found in science education. The advantage of retrieval practice was observed with test questions that assessed comprehension and required students to make inferences. The advantage of retrieval practice occurred even when the criterial test involved creating concept maps. Our findings support the theory that retrieval practice enhances learning by retrieval- specific mechanisms rather than by elaborative study processes. Retrieval practice is an effective tool to promote conceptual learning about science.
Kinchin et al.
In this paper the authors report the use of concept mapping as a means of summarizing interview transcripts in the study of the information-seeking behavior of employees in an organization. Concept mapping differs from traditional methods of textual coding for interview analysis by making underlying cognitive structures transparent and giving a focus to the sets of propositions by which individuals construct meaning. Concept map structure correlates with the perceived richness of interview data. They provide quick summaries of the interview quality and may help to identify topics for further probing to elicit new information. In this study rich interviews provide complex concept map structures, whereas less successful interviews provide simpler, spoke structures. Issues in using concept maps with research interviews are discussed, including use as a retrospective interview probe, as a check on evidence saturation, as a form of data display or as a form of creative coding.
The application of concept mapping to university teaching has revealed the significance of knowledge structures in the process of student learning. The method highlights the negative influence of linearity in promoting an environment where non-learning is the norm. A possible antidote to non- learning is suggested through the reconsideration of the role of uncertainty in higher education and a reconceptualisation of the notion of the expert teacher.
This paper examines the contention that achievement in research is a prerequisite for effective teaching in higher education. It also explores university level teaching more generally with the purpose of examining the links between teaching and research. Concept mapping, in particular, is described as a means of exploring both the knowledge structures of experts (teachers and researchers) and the cognitive changes that are indicative of meaningful learning among students. We use the approach to suggest that rich and complex networks are indicative of expert status, but that these are seldom made explicit to students in the course of teaching. Instead, simple, linear structures comprise most lesson plans or teaching sequences. This linearity is often made transparent through the lecturers' use of PowerPoint presentations to structure teaching. Thus the transmission mode of teaching predominates in HE and evidence of authentic research‐led teaching remains scant. This is likely to reinforce surface learning outcomes among university students and be an impediment to the emergence of expert status. The linear chains that are commonly espoused in teaching lend themselves to rote learning strategies rather than to individual meaning making. The approach we describe here has the potential to reinstate expert status as the prime qualification for teaching in higher education. Where concept mapping is used to share and explore knowledge structures between students and experts, then learning can be shown to occur in ways that are synonymous with research and discovery. Using this approach, the teacher–student distinction becomes legitimately blurred so that the sharing and advancement of knowledge are concomitant. In conclusion, we suggest that this is a basis for a pedagogy that is appropriate to HE and distinct from the compulsory sector.
Laanpere et al.
Interoperability and integration of digital concept mapping tools has not been widely prioritized and supported by software developers. Digital alternatives to paper-based concept mapping (from simple digital whiteboard to dedicated concept mapping software) are increasingly popular among educators, but computer-based concept maps are still difficult to analyze, assess, expand or export to other software platforms. Lack of interoperability and poor integration of concept mapping tools with widely used Learning Management Systems increases workload of teachers, because of poor reusability and automation opportunities. This paper describes conceptual design and implementation of a concept mapping tool that has been integrated into an open-source virtual learning environment IVA. Despite this concept mapping tool has several unique pedagogical features, interoperability with other stand-alone concept mapping tools has been reached. For instance, concept maps can be exported from IVA to CmapTools or other tools that support XTM specification. 
Madu et al.
This study investigated the effects of mind-map as note taking approach on the students' achievement in Economics. The significance of this study was that it would stimulate creativity, discovery and enquiry oriented in students since at the end of each lesson, the student may fashion their notes according to their ability to facilitate their retention The study was carried out in two selected co-educational schools in Aguata Local government Area of Anambra State, South East of Nigeria. A sample size of 195 Senior Secondary school students two was used for the study. The two selected schools were assumed to possess similar characteristics. A pretest post-test non-equivalent control group design was adopted for the study. The treatments were assigned to the two coeducational schools respectively. Economics achievement test was used as an instrument for data collection. The instrument was validated and trial- tested and the responses from this exercise were used to determine the internal consistency of the items of the instrument using Kuder-Richardson formula 20. The reliability was found to be 0.79. The two groups (experimental and control groups) were pre-tested before the treatment. After the treatment, the posttest was administered to the two groups. Data obtained from this exercise were analyzed for answering the research question and testing the hypothesis at .05 level of significance. The analysis of the data indicates that mind-map as note taking approach enhanced students achievement in Economics. On the basis of the results it was recommended that students should be encouraged by the teachers to represent the topics they are taught by using symbols and connections that will make lessons more permanent in their memory.
Mani
The purpose of this study is to examine the effects of digital mind mapping over paper-based mind mapping and conventional teaching method on students' achievement in Environmental Science. For the study, 120 B.Ed trainees of a teacher training institute in Noida were selected. The participants were randomly allocated to three groups: experimental group, control group 1 and control group 2. The teaching method used for the experimental group was digital mind mapping, conventional method for control group 1, and paper-based mind mapping method for control group 2 respectively. A pre-test and post-test control group research design was used. The experimental results suggested that adopting mind mapping strategy can significantly improve students' achievement in Environmental Science as compared to using conventional method. Furthermore, most of the students were satisfied with using mind mapping to learn Environmental Science. Findings indicated that Digital mind mapping produced the best outcomes, especially in the activities like brainstorming and group discussion.
Mento et al.
Illustrates the technique of mind mapping as applied in executive education and management development. Indicates that most of the 70 students surveyed appreciated its use for recall and creative thinking, although some prefer a top-to-bottom, linear outline approach.
Michelini
By marrying mind mapping with care planning, we have encouraged the use of critical, whole-brained, holistic thinking when applying the nursing process and using nursing diagnoses. Standardized language is still used, but the thinking that occurs has become more important than the language.
Miller et al.
Concept maps are commonly used in a variety of educational settings as a learning aid or instructional tool. Additionally, their potential as a research tool has been recognized. This article defines features of concept maps, describes the use of pre- and post concept maps as a research tool, and offers a protocol for employing concept maps as an effective research tool. To illustrate the viability of concept maps as a research tool, specific steps and examples are provided from a study that used concept maps to investigate the conceptual change of pre-service and in-service teachers after participation in special and general education courses using multimedia case-based instruction. Support for concept maps as a research tool to evaluate learning and growth in knowledge are provided with specific procedures for creating a concept map quality scoring system.
Nada et al.
In this paper we have tried to present the theoretical foundations and the origins of what we call concept maps. While at first glance concept maps may appear to be just another graphic representation of information, understanding the foundations for this tool and its proper use will lead the user to see that this is truly a profound and powerful tool. It may at first look like a simple arrangement of words into a hierarchy, but when care is used in organizing the concepts represented by the words, and the propositions or ideas are formed with well-chosen linking words, one begins to see that a good concept map is at once simple, but also elegantly complex with profound meanings. Concept mapping has been shown to help learners learn, researchers create new knowledge, administrators to better structure and manage organizations, writers to write, and evaluators assess learning.
An important aspect of knowledge management is the implementation of methods to share the unstructured knowledge of expert practitioners within an organization. The existence of unstructured and dynamic knowledge represents a challenge to experts due to the dynamic and non-sequential nature of such knowledge. In order to make such knowledge sharable, it is necessary to have both an effective elicitation method and a useful representation toolkit. In this paper we describe a Dynamic Knowledge Toolkit (DKT) that is used in knowledge elicitation and representation based upon Knowledge maps. Knowledge Maps content is different from the more general information in typical reference material and that is organized quite differently than standard textbook knowledge or mainstream hypermedia learning systems. These knowledge models tend to be large and complex with interwoven themes and rich interconnections of the concepts based on the expert"s highly articulated mental model of the domain. Knowledge Maps have been used in all facets of education, training and business. With the fundamental goal of fostering learning and knowledge sharing they have been shown to be an effective tool for displaying prior knowledge, summarizing, planning, scaffolding for understanding, consolidating experiences, improving affective conditions for critical thinking, decision making, supporting cooperation and collaboration, and organizing unstructured knowledge content. We describe the use of the toolkit in a case study on the capture and representation of local weather forecasting knowledge. We also show how Knowledge maps can be used to support activities such as the preservation of institutional memory, the "recovery" of expertise that might reside in less accessible forms such as archived documents, for performance support, and for other knowledge-intensive pursuits such as weather forecasting or crisis management.
Nesbit et al.
This meta-analysis reviews experimental and quasi-experimental studies in which students learned by constructing, modifying, or viewing node-link diagrams. Following an exhaustive search for studies meeting specified design criteria, 67 standardized mean difference effect sizes were extracted from 55 studies involving 5,818 participants. Students at levels ranging from Grade 4 to postsecondary used concept maps to learn in domains such as science, psychology, statistics, and nursing. Posttests measured recall and transfer. Across several instructional conditions, settings, and methodological features, the use of concept maps was associated with increased knowledge retention. Mean effect sizes varied from small to large depending on how concept maps were used and on the type of comparison treatment. Significant heterogeneity was found in most subsets.
Nong et al.
The aim of this paper is to examine the effects of digital mind mapping over paper-based mind mapping and conventional teaching method on students"s academic achievement and attitudes in teaching and learning Psychology. For the study, 90 students of first year students of Thai Nguyen Teacher Training Institute, Vietnam were selected. The participants were randomly allocated to three groups: experimental group, control group 1 and control group 2. The teaching method used for the experimental group was digital mind mapping, conventional method for control group 1, and paper-based mind mapping method for control group 2 respectively. A pre-test and post-test control group research design was used. Findings showed that there was a significant positive difference in students" academic achievement and attitudes toward learning Psychology through the computer- based mind mapping teaching and learning method
Novak et al.
The Theory Underlying Concept Maps and How to Construct and Use Them (2006)
Conclusions In this paper we have tried to present the theoretical foundations and the origins of what we call concept maps. While at first glance concept maps may appear to be just another graphic representation of information, understanding the foundations for this tool and its proper use will lead the user to see that this is truly a profound and powerful tool. It may at first look like a simple arrangement of words into a hierarchy, but when care is used in organizing the concepts represented by the words, and the propositions or ideas are formed with well-chosen linking words, one begins to see that a good concept map is at once simple, but also elegantly complex with profound meanings. Concept mapping has been shown to help learners learn, researchers create new knowledge, administrators to better structure and manage organizations, writers to write, and evaluators assess learning. As with any tool, it can also be misused, and we have illustrated some examples of this. We also wish to use this document as a foundation for further experimentation, critique, and dialogue regarding the use of this tool. The CmapTools web site provides opportunities for lively exchanges among users and researchers. This document itself should be a "living" document, with revisions occurring periodically as we gain new knowledge and experiences with the use of this tool. We invite all users of concept mapping and CmapTools to participate in this dialogue.
Poole et al.
Faculty efforts to measure outcomes in study abroad programs typically fall short of current expectations for measurable results and increased competencies. Part of the problem stems from the dual challenge of conducting rigorous, objective assessment of these programs without losing the rich, subjective meaning of the cultural experience for student growth and development. The concept mapping method developed by Trochim is a potentially powerful tool for overcoming this challenge, allowing evaluators to utilize qualitative and quantitative research designs simultaneously. This paper illustrates the use of the method in an American social work study abroad program based in Mexico.
Proly et al.
Graphic organizers are a research based strategy used for facilitating the reading comprehension of expository text. This strategy will be defined and the evolution and supporting evidence for the use of graphic organizers will be discussed. Various types of graphic organizers and resources for SLPs and other educators will also be discussed.
Paykoç et al.
This study looks at an example of collaborative activity in primary schools and aims to explore the ways visual material helps children establish shared meanings. Authors found that an exercise involving mind mapping software provided a useful focus for pupils to organize their thoughts, to present information clearly and attractively, and facilitate communication.
Ritchhart et al.
A method for uncovering students' conceptions of thinking using concept maps is explored.  This method is then used to evaluate changes in students' conceptions of thinking after a year's participation in classrooms where their teachers actively sought to nurture students' thinking dispositions as part of the Cultures of Thinking project.  Results suggest that students' conceptions of thinking do improve with age but also can be substantially developed through a classroom culture where thinking is modeled and rich opportunities for thinking are present.
Spencer et al.
The concept of radiant thinking, which led to the concept of mind mapping, promotes all aspects of the brain working in synergy, with thought beginning from a central point. The mind map, which is a graphical technique to improve creative thinking and knowledge attainment, utilizes colors, images, codes, and dimensions to amplify and enhance key ideas. This technique augments the visualization of relationships and links between concepts, which aids in information acquisition, data retention, and overall comprehension. Faculty can promote students' use of the technique for brainstorming, organizing ideas, taking notes, learning collaboratively, presenting, and studying. These applications can be used in problem-based learning, developing plans of care, health promotion activities, synthesizing disease processes, and forming differential diagnoses. Mind mapping is a creative way for students to engage in a unique method of learning that can expand memory recall and help create a new environment for processing information. [J Nurs Educ. 2013;52(x):xxx–xxx.]
To
Research on how mind map improves memory (2009)
This study is an investigation into the effectiveness of using mind mapping skills as a prewriting planning strategy in enhancing the quality of writing. Students were trained in the use of mind mapping in planning before writing their English compositions. Student compositions after the use of mind mapping were holistically rated by three experienced markers. Findings reveal that the application of mind mapping in planning is a useful writing strategy that can improve students" writing.
Trifone
Concept mapping was investigated as a learning strategy to motivate 82 high-ability, 10th-grade studentsto take a more meaningful approach to learning biology. The study employed a quasi- experimental, pre-post mixed methodology design to assess the relationship between concept- mapping proficiency andchanges in motivational and learning strategies use profiles using the Motivated Strategies For Learning Questionnaire (MSLQ). The qualitative and quantitative findings suggest a mixed motivational responseby learners in taking a more meaningful approach to learning biology using concept mapping. Specifically,the findings revealed that concept mapping may play a supportive role in contributing to a more meaningful approach to learning biology, as indicated by positive and statistically significant effects on students' test performance, as well as adaptive and statistically significant fall-to-spring changes in motivational and learning strategy use profiles in direct relation to the level of mapping proficiency. Thisdichotomous relationship appears to be a consequence of whether learners' perceive that concept mapping can provide them with a more effective learning strategy than those utilized in the past and, more importantly, upon their willingness to put in the requisite time and effort to develop proficiency in using mapping to take a more self-regulated and meaningful approach to their learning. Thus, it behooves the educator interested in using concept mapping to consider students' receptiveness to using concept mapping and encourage them to perceive the value of becoming sufficiently proficient in its use.
Tucker et al.
Whether created manually or through the use of software, a non organization framework known as mind mapping offers an alternative method for capturing thoughts, ideas and information to linear thinking nodes, such as outlining. Mind mapping is used in education, government and business as a creative method that is useful in training, brainstorming, organizing and problem solving. This paper examines mind mapping techniques, advantages and disadvantages of hand mind- mapping software applications are compared on a number of product dimensions. Survey results provide a descriptive profile of mind map users in education, government and business sectors. 
Valadares et al.
This paper aims to defend the use of concept maps in science lessons. We begin by presenting a theoretical ground for the use of metacognitive instruments in lessons where it is meant to create a constructivist environment favorable to a meaningful learning, as well as to some features of the cooperative work and negotiation of ideas, which is the ground for the above mentioned environment. Afterwards we are going to present some empirical evidence which points to the value of the concept maps for a better learning of sciences
Webber
This article considers the use of mind mapping as part of information literacy education. Important parts of the search process are: identifying the information need (or defining the information problem) and formulating search strategies. Research has shown that these are areas with which people have significant problems.It is argued that current approaches to information literacy education often do not give enough attention to these aspects. Mind mapping and concept mapping are briefly defined. The use of these approaches as part of an undergraduate Information Literacy class is described. The benefits of using these techniques to educate people in information literacy in the workplace are highlighted. The article finishes by advocating that these approaches could be more widely adopted.
Weijze
In task performance support, but especially during learning tasks, reality is first discovered through perception. Perceptual elements (notes), bearing reality's richness, do not recognize this fact until concepts shed some light upon them. This is possible because concepts substantiate their meaning by relating the memorized perceptual elements. Still, however, the person should ascribe an element to a concept or allow a concept to accommodate it. The element thus inherits meanings from contexts produced by different concepts. Within limits of tolerance, the confrontation between the associative, logical or moral consciousness of different contexts calls for a deeper appreciation of intuition and thereby for a more complete understanding of real life. This article describes the role of conceptual representations in one's learning from prior knowledge, intuition and conceptual awareness.
Wheeldon et al.
This article explores how concept maps and mind maps can be used as data collection tools in mixed methods research to combine the clarity of quantitative counts with the nuance of qualitative reflections. Based on more traditional mixed methods approaches, this article details how the use of pre/post concept maps can be used to design qualitative interviews. As a more novel contribution, this article also explores how qualitative participant-generated mind maps can be used in multistage data collection to develop a mixed methods ''salience score.'' Although in many ways preliminary, this approach offers an initial means to consider on what basis a mixed methods measure could be conceived.
Traditionally, qualitative data collection has focused on observation, interviews, and document or artifact review. Building on earlier work on concept mapping in the social sciences, the authors describe its use in an exploratory pilot study on the perceptions of four Canadians who worked abroad on a criminal justice reform project. Drawing on this study, the authors argue that traditional definitions of concept mapping should be expanded to include more flexible approaches to the collection of graphic representations of experience.In this way, user- generated maps can assist participants to better frame their experience and can help qualitative researchers in the design and development of additional data collection strategies. Whether one calls these data collection tools concept maps or mind maps, for a generation of visually oriented social science researchers they offer a graphic and participant-centric means to ground data within theory.
Zampetakis et al.
Results indicate that an effective strategy to present mind mapping to engineering students is to explain in detail all the possible applications of mind mapping; present mind maps with different colours using both words and drawings and encourage students to use mind maps in team assignments.
Zipp et al.
Academicians are always trying to answer the question, "What is the most effective way to teach?" Finding the answer to this question is no easy task but recognizing that each teachable moment must be shaped based upon the learner, task, and the environment enable the academician to consider viable teaching strategies that would promote the learning goals. The purposes of this paper are first, to describe one teaching strategy "Mind Mapping Learning Technique (MMLT)"; second, to provide an understanding of how the MMLT is used to promote critical thinking skills in graduate students; and finally, to assess students perceptions regarding the use of the mind mapping learning technique as a tool to enable them to better organize, prioritize, and integrate material presented in a course.
Part of edu curriculum
UK