APE: How to Publish a Book
by
Toni Krasnic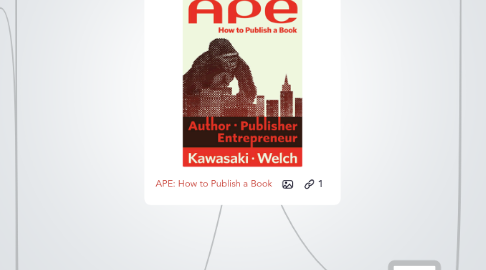 5.0
stars -
8
reviews range from
0
to
5
Social
Website
Bio & contact
Twitter (@GuyKawasaki)
Google+
APE Resources
Assets
Downloads
Book links
SPIT
Updates
"When a self-publisher successfully fills three roles-author, publisher and entrepreneur-the potential benefits are greater than with traditional publishing"
Complete control over your book
Determine your own fate
Retain all rights
Greater revenue
Author
Publishing is a parallel process
Simultaneous steps at once
Jump around the book as needed
Should you write the book?
Satisfying, but NOT, easy, always enjoyable, big money maker
Bad reasons, Money, Popular demand, Impress people
Good reasons, Enrich lives, Intellectual challenge, Further a cause, Catharsis
Are you passionate about your message?
Traditional publishing
Resistant to change
Process, Very, very lengthy, Uncertainty, Publish small % of books, Tough to predict a bestseller, Many famous authors got rejected, Rejection is part of life, Many players, Agent, Editor, Copyeditor, Designer, Publicist
So You Want to Write a Novel [4:38]
Future?, Multiple formats, Beyond just books
Self-Publishing Revolution
On Publishing
Infinite shelf space with ebooks, No shipping costs, No printing costs, Immediate delivery, First choice for self-published authors
"artisanal publishing"
3Ds of Self-Publishing, Democratization, Anyone can publish, Determination, Author is in charge, Disintermediation, Direct distribution
Advantages for authors, Control, Content, Design, Longevity, Keep the book alive, Revisions, Immediate, Money, Higher royalty, Direct connection, with readers, Price, can be easily changed, Time to market, is faster, Global distribution, Foreign rights, Analytics, are available to author, Flexibility, Mass copies
Disadvantages for authors, No advance, Don't have a help team, Marketing, Prestige, Distribution
Plan C, Self-publishing as a means to traditional publishing, AmazonEncore
Tools
Writing program, Editing, Styles
Utilities, Writing, Organization
Collaboration
Writing
What's your story?, What's your pitch?
Research, Books, Articles, Web
Write, Outline, "Vomit" draft, Postpone self-criticism, Google Docs for feedback, Comments, Shared ownership, Focus!, Write every day!
Finish, Edit, Read
Write the book yourself, Don't write to impress others, Be true to yourself
Financing
~ $4000 for ebook, More for printed book
How will you get the money?, Reduce costs, Raise money, Friends, Indiegogo, Unbound, Pubslush, Kickstarter
How many books can you sell?
Publisher
Editing
Content editing, Organization, Structure, Content, Style
Copyediting, Writing, Errors
Who?, Friends & family, Niche communities, Crowdsourcing, Professionals
Book look
Little details make a difference
Front matter
Writing
Interior design
Book cover
Stand out at postage-stamp size
First thing that readers notice
Examples, Book Cover Archive, Amazon
Book distribution
Book selling
Amazon, Kindle Direct Publishing
Apple, Registration at iBooks, iTunes Connect, iTunes Producer
Barnes & Noble, PubIt
Google, Google Play, Publishers, Google Books, Google Uploader
Kobo, KoboWritingLife
Royalties, Amazon: 70%, Apple: 70%, B&N: 65%, Google: 52%, Kobo: 70%
Book conversion
Comparison of e-book formats
Tools, Adobe InDesign, iBooks Author, Pages
Conversion services, Sites, Freelancers
Additional tips, Encryption, Image sizes, Print books
Direct selling
Can you reach customers directly?
Services, Gumroad, E-junkie, ClickBank, Ganxy
Author-Services
Lulu
Smashwords
BookBaby
Author Solutions
Blurb Bookstore
CreateSpace (Amazon)
Print-on-Demand
Print-to-Publisher
Print-to-Order
Print-to-Warehouse
Book pricing
Considerations, Costs, Market conditions, Brand, Competition, Pricing philosophy
Strategies, Start low to build critical mass, Run promotions, KDP Select, Sell exclusively on Amazon, 5 free days, Lending library
Book audio
Audio for customers, Audible, Books on Tape, OverDrive
Audio for authors, Audiobook Creation Exchange (ACX)
Foreign rights
Translations
Countries of interest, Population, Language
Foreign publishers
Other issues
Rip-offs
Copyright
DRM
Borrowing
Work-for-Hire Agreements
Revisions
Entrepreneur
Guerilla-Marketing
Understand how people discover your books
Cover the Earth
Make reviewing easy
Do something fun
Cost = $0
Personal brand
Trustworthiness
Likeability
Competence
Platform
E-mail
Newsletter
Website
Blog
Social media
Services, Google+, Facebook, Twitter, LinkedIn, Pinterest
Creating a profile
Sharing on social media, Sources of info, Writing posts
Commenting & responding, Help people, Add value, Stay on topic
Social media goodies
Bloggers and reviewers
Pitching, Whom to pitch, Services, DIY
Press release
PR
Book tours