LinkedIn Marketing For Solopreneurs
by
George Kao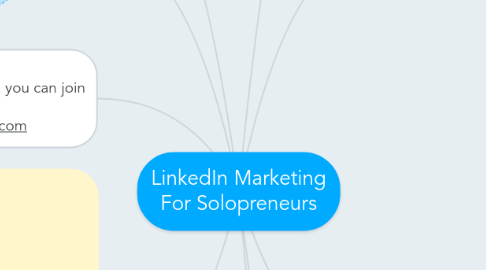 5.0
stars -
18
reviews range from
0
to
5
LinkedIn Marketing For Solopreneurs
More reading
HubSpot "35 tricks" -- March 2014 http://j.mp/1lKYJpL
Feel free to share this mindmap freely
You can give out this link: http://www.mindmeister.com/402519083
Or to share it directly on LinkedIn, click here: http://j.mp/QJDkDr
Version: May 2015 For major updates, you can join the email list at: http://GeorgeKao.com
To follow George Kao on LinkedIn: https://www.linkedin.com/today/author/53663-George-Kao
To connect with George Kao on LinkedIn: http://www.linkedin.com/in/georgekao
What Not To Do
Send "mass messages" through the private messaging tool
Update your profile every week
Harvest email addresses of your LinkedIn connections and send them mass email
Go into a group and before you've added value for at least a few posts, you share promotional type of link(s) or try to get people to your website.
Before you use any strategy, whether listed on this mindmap or not, think about the Golden Rule: would you want lots of other LinkedIn users to be doing that thing too?
How to use this mindmap
You can click and drag any part of the mindmap to move around.
At the end of some nodes, you'll see a + symbol. Click on it to expand its idea!
Also notice on the upper left of this mindmap is + and - symbols -- click those to adjust the size of the font.
Start with the items on the right-side of this mindmap
Video Tutorial
Setting Up An Optimized LinkedIn Profile
First make sure you don't have a duplicate profiles on LinkedIn (i.e. you may have signed up for linkedin twice or more without knowing it)
Fully fill out your LinkedIn profile
Add keywords and accomplishments into your profile
Add your warm contacts!
Request recommendations from people who have loved your work
Profile "publicity" settings... which parts of the profile to make public?
Strategic Actions -- More Frequent
Write on your own LinkedIn blog!
Respond to your Invitations & Messages Regularly
Manage your Notifications
Connect thoughtfully with new people
Reach out to prospective clients
Reach out to prospective partners
Write comments on relevant Influencer postings
Participate in relevant and active Groups
Post Status Updates Frequently
Update your profile quarterly
When you get a testimonial or positive comment about your work, consider requesting a recommendation from that person on LinkedIn. See more info in the node: "Setting up an optimized linkedin profile"
Strategic Actions -- If You Have Time or Bigger Budget
Write a thoughtful (short is fine) congrats on people's new jobs or work anniversaries
Comment on status updates of others
Create your own LinkedIn Group
Create LinkedIn Ads
Look at "who's viewed my profile" -- https://www.linkedin.com/wvmx/profile -- really only useful if you have LinkedIn Premium
The main concepts are all listed in this mindmap, and it may be all that you need. To understand more nuanced concepts, watch the videos www.georgekao.com/linkedin