Human Health & Environment Databases
by
Toni Krasnic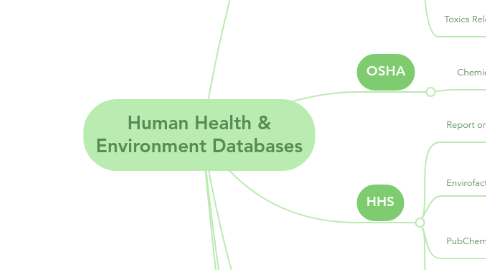 0.0
stars - reviews range from
0
to
5
Human Health & Environment Databases
EPA
The Chemical Data Reporting (CDR) Rule, issued under the Toxic Substances Control Act (TSCA), requires manufacturers (including importers) to give EPA information on the chemicals they manufacture domestically or import into the United States. EPA uses the data to help assess the potential human health and environmental effects of these chemicals and makes the non-confidential business information it receives available to the public.
The data in the dashboard are of varying quality with the highest quality data being assembled by the DSSTox Program. The majority of the chemical structures within the database have been compiled from public sources, such as PubChem, and have varying levels of reliability and accuracy. Links to over twenty external resources are provided. These include other dashboard apps developed by EPA and other agency, interagency, and public databases containing data of interest to environmental chemists. It also integrates chemistry linkages across other EPA dashboards and chemistry resources such as ACToR, ToxCast, EDSP21 and CPCat. Expansion, curation, and validation of the content is ongoing.
Access to health and safety data on chemicals regulated under TSCA.
Consumer product information.
Endocrine Disruption Screening Program for the 21st Century Dashboard (EDSP21 Dashboard) draws on various data sources/tools including:- Rapid, automated (or in vitro high-throughput) chemical screening data generated by the EPA's Toxicity Forecaster (ToxCast) project and the federal Toxicity Testing in the 21st century (Tox21) collaboration.- Chemical exposure data and prediction models (ExpoCastDB).- High quality chemical structures and annotations (DSSTox).- Physchem Properties Database (PhysChemDB).
Provide registered EPA, State, local and Tribal users with access to emissions inventory data.
Health and Environmental Research Online (HERO) database provides an easy way to access and influence the scientific literature behind EPA science.
 iCSS ToxCast Dashboard integrates data from various sources including:- ToxCast and Tox21 - High-throughput chemical screening data- ExpoCast - Chemical exposure data and prediction models- DSSTox - High quality chemical structures and annotations- PhysChemDB - Physical Chemical Properties Database- CPCat - Chemicals listed by associated categories of chemical and product use
EPA database of human health effects that may result from exposure to various substances found in the environment.
Solvent Substitution Software Tool, PARIS III, is a desktop/laptop application that allows users to find mixtures of solvents with specific physical properties.
Federal Reading Rooms for Risk Management Plans (RMP).
Find safer chemicals and products.
TRI is a resource for learning about toxic chemical releases and pollution prevention activities reported by industrial and federal facilities.
OSHA
OSHA compliance officers often take industrial hygiene samples when monitoring worker exposures to chemical hazards. Many of these samples are submitted to the Salt Lake Technical Center (SLTC) for analysis. The sampling results included on this web page represent the records of the SLTC sampling information system from 1984 forward. They include data on personal, area, and bulk samples for various airborne contaminants. All inspection sampling results will be included here once the case is closed. OSHA does not publicly disclose information from the following types of cases: open inspections and citations currently under contest or under appeal to the Occupational Safety and Health Review Commission or the U.S. Courts of Appeals. After litigation has concluded, the sampling data from the related inspection will be added at the next scheduled update. OSHA updates the data on this web page semi-annually in January and July.
HHS
This cumulative report currently includes 248 listings of agents, substances, mixtures, and exposure circumstances that are known or reasonably anticipated to cause cancer in humans.
Open chemistry database.
Resource for searching databases on toxicology, hazardous chemicals, environmental health, and toxic releases
NGOs
Tool to help you find resources, work collaboratively to understand the hazards associated with chemical substances, and find alternatives which are inherently safer.
Tools to assist in the search for safer cleaning processes by identifying, developing and promoting safer alternatives to hazardous solvents.
Tool for chemical hazard assessments.
The Green Seal is awarded to products that have less impact on the environment and work well. To earn the Green Seal a product must meet the Green Seal environmental standard for the category as demonstrated by rigorous evaluation and testing and a plant visit. Green Seal standards are set so that they identify the most environmentally preferable products currently available
National effort to protect families from toxic chemicals.
Enables visitors to easily access pollution reports covering toxic releases, air quality, and other environmental issues in their community.
Industry
International
Global portal to information on chemical substances
Specialized cancer agency of the World Health Organization. The objective of the IARC is to promote international collaboration in cancer research. The Agency is inter-disciplinary, bringing together skills in epidemiology, laboratory sciences and biostatistics to identify the causes of cancer so that preventive measures may be adopted and the burden of disease and associated suffering reduced. A significant feature of the IARC is its expertise in coordinating research across countries and organizations; its independent role as an international organization facilitates this activity.
Japan's information portal for risk information and management of chemical substances.