VOICE-IT
by
Glen Gatin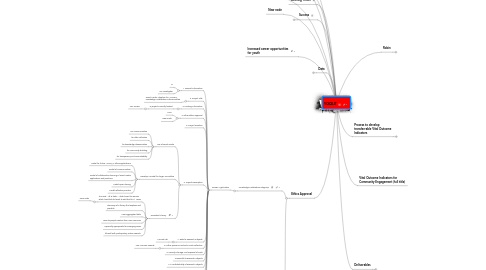 0.0
stars - reviews range from
0
to
5
Google Chrome use
How many participants
How many entries
How many views
How many comments/feedback
4 Next Steps
1. Concept map training
2. Other stuff
Who can Edit which pages?
Who can access secure /private information
Who can deny access due to bad behavior
Discussion Forums
Blogs
Video BLogs (YouTube)
Documents (Google Docs, Word)
epistemologies
Researcher knowing
community knowing, Views of Time
community spirituality
Reflection
September 27, 2011
New node
Archive Techology generated knowledge
Archive locally generated knowledge
Interviews (paper or video)
Facilitated Sessions (Audio, Video, paper, meeting records), New node
Official Reports
Ushahiti
Crowd sourced data
tech agnostic, SMS, email, voice mail, web page
identify community outcome indicators
Promote and contribute to scholarly efforts in ed research
Three Hallmarks of the VOICE project
From proposal Detailed Description 2
OCAP, Ownership, Refers to the relationship of a First Nations community to its cultural knowledge/data/information. The principle states that a community or group owns information collectively in the same way that an individual owns their personal information. It is distinct from stewardship [or possession]., Control, The aspirations and rights of First Nations to maintain and regain control of all aspects of their lives and institutions include research, information and data. The principle of control asserts that First Nations Peoples, their communities and representative bodies are within their rights in seeking to control all aspects of research and information management processes which impact them. First Nations control of research can include all stages of a particular research project – from conception to completion. The principle extends to the control of resources and review processes, the formulation of conceptual frameworks, data management and so on., Access, First Nations people must have access to information and data about themselves and their communities, regardless of where it is currently held. The principle also refers to the right of First Nations communities and organizations to manage and make decisions regarding access to their collective information. This may be achieved, in practice, through standardized, formal protocols., Possession, While ownership identifies the relationship between a people and their data in principle, possession or stewardship is more literal. Although not a condition of ownership per se, possession (of data) is a mechanism by which ownership can be asserted and protected. When data owned by one party is in the possession of another, there is a risk of breach or misuse.T his is particularly important when trust is lacking between the owner and possessor.
Co-create knowledge., Changes to teaching methods and curriculum, Community based participatory action research, Expert and Lay Knowledge, different but equally important.
Community engagement, Communicate research results among various communities, Make Results Openly Available, Archive Research Results, Utilize technology to rapidly disseminate knowledge (Feeds)
Develop innovative and integrated plan for communication and dissemination of information
Subgroups of academic researchers
PR
Larger academic researchers
Providing a channel for inputs from communities lay and academic, Tech agnostic PC, Wiki and Web.2, Channel agnostic, email, SMS,, Video-conferencing, forums
VOICE-IT Items from budget p. 3, Computer hardware, Laptops, IT Services, Webhosting, Web design, VOICE-IT knowledge mobilization sites, Specific Training Activities for students, Digital competencies
Communities
VOICE-IT Hub site, Student hired to maintain, disseminate information publicly, nationally and internationally., Oversight committee, information repository, enable the simultaneous generation, saving, integration, and availability of information, Support the concept of "research as a journey" rather than "research as a destination"
Innovative use of web based technology for research approaches, wikis and blogs to support narrative inquiry in the form of reflective personal stories from various audiences including youth, information gathering mechanisms, online surveys, videoconferencing and teleconferencing, e-disscussions
Community Based Participatory Action research
The importance and role of the community-based researchers
the move toward decolonization of research design, methodology, and analysis
Generate research practitioners, Buntep, UCN Teacher prep, Brandon U Grad students, Non academic participant researchers, Participatory action research PAR
allow space and voice for the emergence of alternative discourse
Research Themes, Theme 1:Understanding the current context of community engagement including children and youth, Theme 2: Identifying vital outcome indicators for children and youth in the community, Theme 3: Engaging the community in the development and use of vital outcome indicator of success for children and youth, Theme 4: Engaging children and youth for the community
October 21, 2011 (Cisco) October 24, 2011 The Pas (research protocols - Sherry et al) October 25, 2011 The Pas (council of elders) October 26, 2011 The Pas (Glen's show 'n' tell on VOICE IT)
For this project success is defined as, including, but not limited to these items. From the proposal Detailed description p.1
improved educational outcomes
improved workplace skills
increased engagement in community leadership and activities
retention of FNMI language and culture
More effective youth success programs
BUREC application form
BUREC Application, 1. General Information, PI, Co-Investigator, 2. Project Title, Social Media Adoption for VOICE-IT Knowledge Mobilization Subcommittee, 3. Funding Information, Is project currently funded, Yes, SSHRC, 4. Other Ethics approval, UCN, New node, 5. Project Duration, 6. Project Description, Use of social media, For communication, for data collection, for knowledge dissemination, for community building, for transparency and accountability, Develop a model for larger committee, Model for future VOICE_IT ethics applications, model of communication, model of collaborative learning of social media applications and practices, Model open sharing, Model reflective practice, Grounded Theory, This said "all is data". I didn't want to remove what it said but did want to add text to it. How?, New node, discovery of a theory that explains and predicts, Uses aggregated data, How do people resolve their main concerns, especially appropriate for emerging areas, fits well with participatory action research, 7. Risks to Research Subjects, Minimal risk, 8. Other persons Involved in Data collection, Lisa, Carmen, Brenda, 9. Security, Storage, and Disposal of Data, 10.Benefits to Research subjects, 12. Confidentiality of Research subjects, 11. Procedures for obtaining consent, 13. Data Use by Third Parties, 14. Use of deception in project, 15. Debriefing of Research Subjects
What are the ethical considerations for social media use?
Research using online data that is exempt, TCPS Article 2.2
Research using online data not exempt, TCPS Article 2.2