A New Way to Note It Down
Flexible, Visual Note Taking.
Note taking with mind maps is simple, effective and fun. Jot down your main ideas or keywords, connect your big ideas, then add context with images, videos, and document attachments. When you're done, turn your visual map into a bullet outline in a snap.
Capture ideas quickly and visually.
Draw connections between ideas and concepts.

Toggle between mind maps and bullet outlines.
Trusted by 27 million happy users worldwide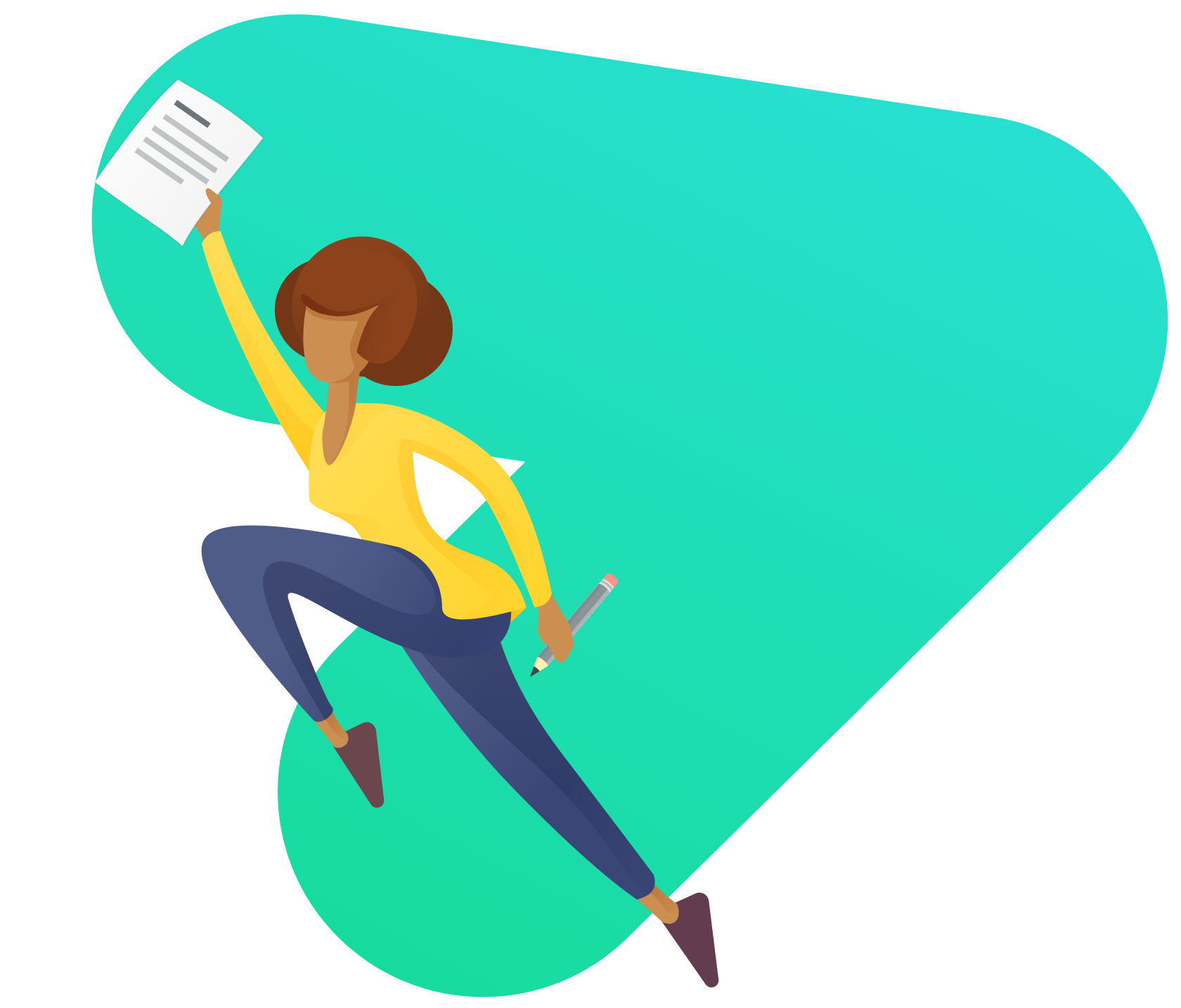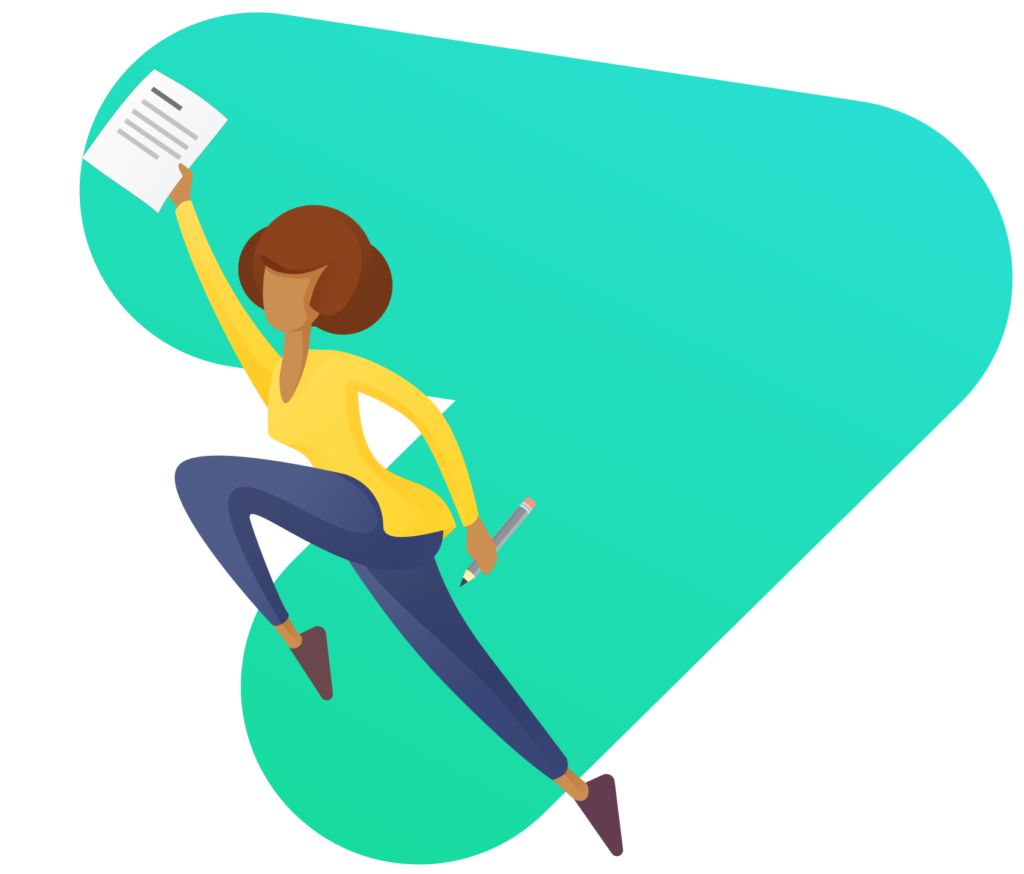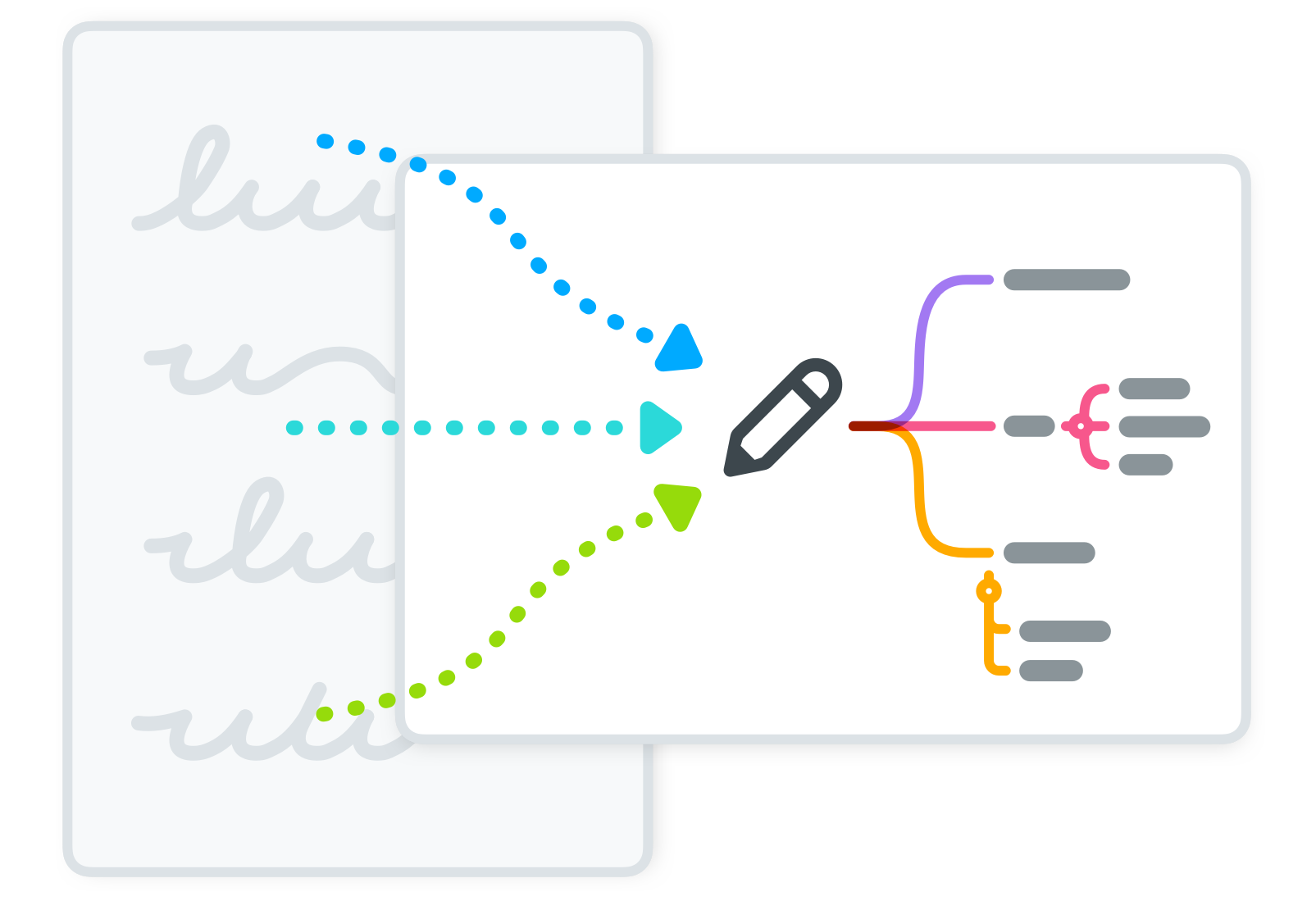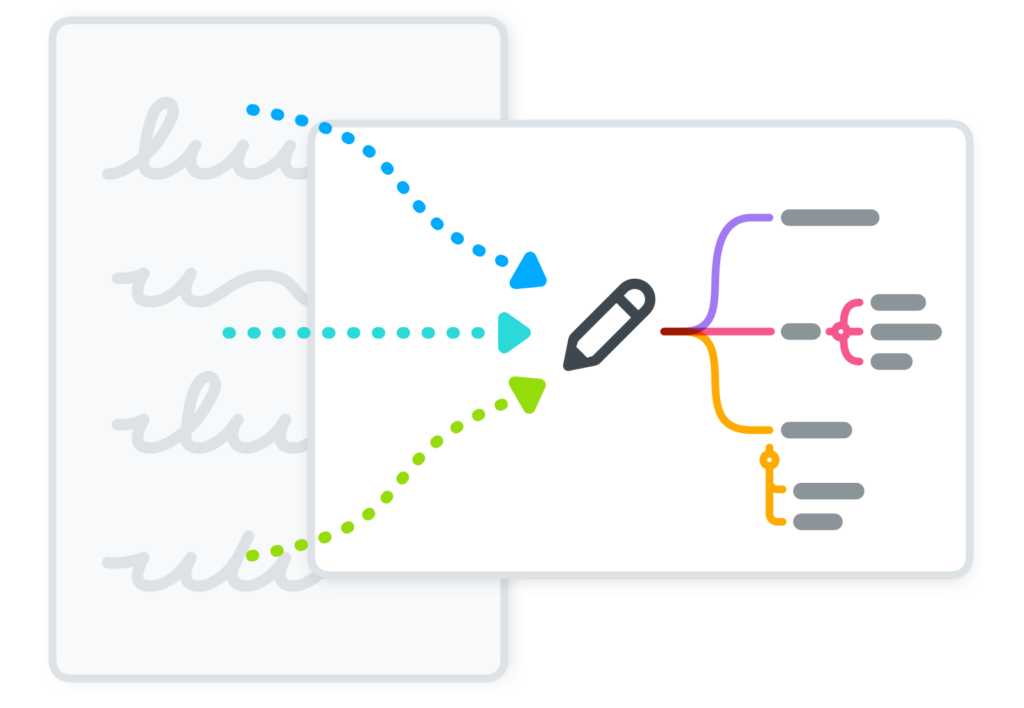 Note Taking, Reimagined
Ready for Anything.
Note taking needn't be a messy endeavor. With MindMeister's infinite canvas, there's always space for more detail, always the opportunity to keep sight of the big picture. Add new topics, organize your thoughts quickly with drag + drop functionality, and even share notes with colleagues or classmates.
Fit for Your Ideas
Mind Map to Outline & Back Again.
With MindMeister's outline mode, you don't have to choose between visual or linear note taking. Take notes in the style that suits you best, then toggle between views for ultimate flexibility.
Take quick, visual notes in mind map mode.

Add supporting documents, images, and more to each topic.

Toggle from mind map to outline and get to writing with ease.
Flexible Note Taking
MindMeister: The Features.
Whether you're taking notes in a meeting, in class, or jotting down personal thoughts, note taking is easier and more fun in a mind map. Turn boring notes into a visual masterpiece with MindMeister.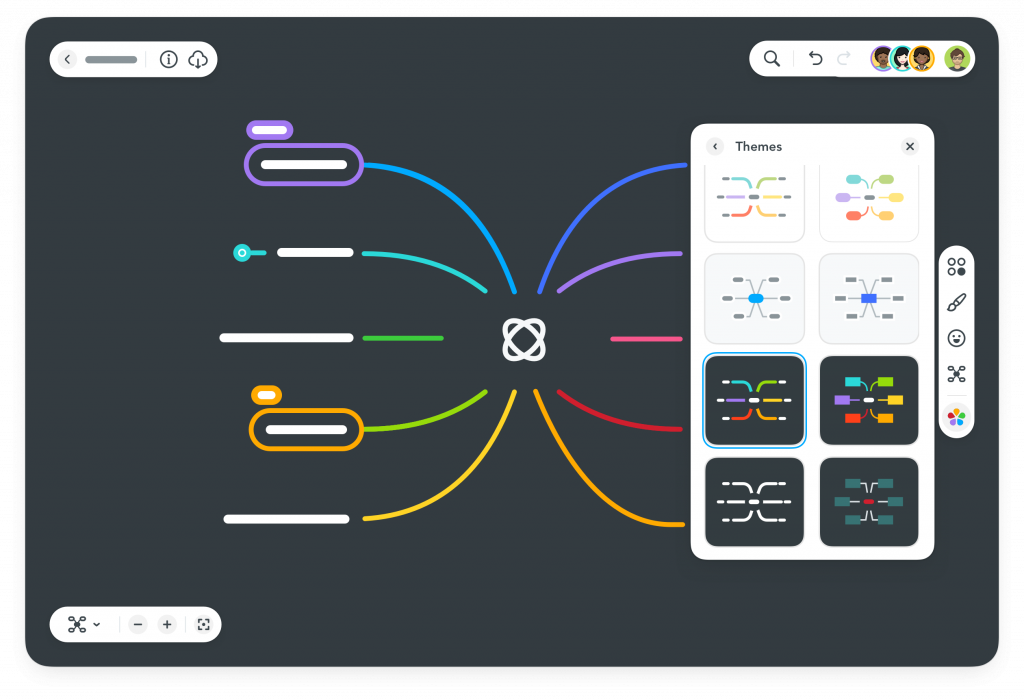 Themes
Explore MindMeister's expertly-designed themes to add color and style to your mind maps: improving readability and comprehension.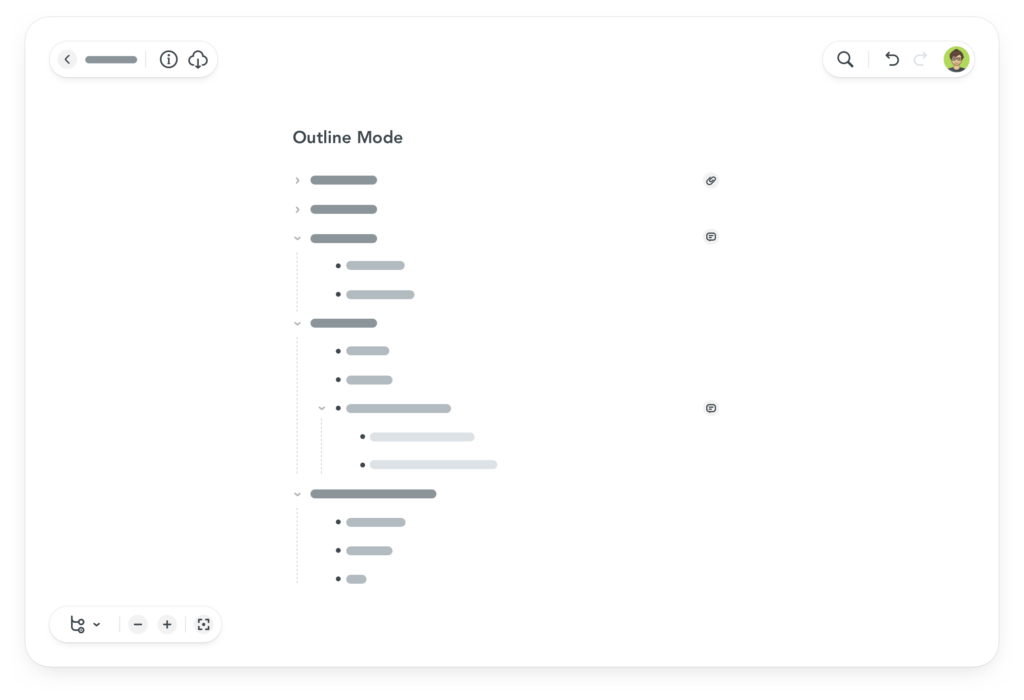 Outline Mode
Build a mind map as unique as your ideas. Then, see it as a bulleted list. Easily toggle between linear and mind map view.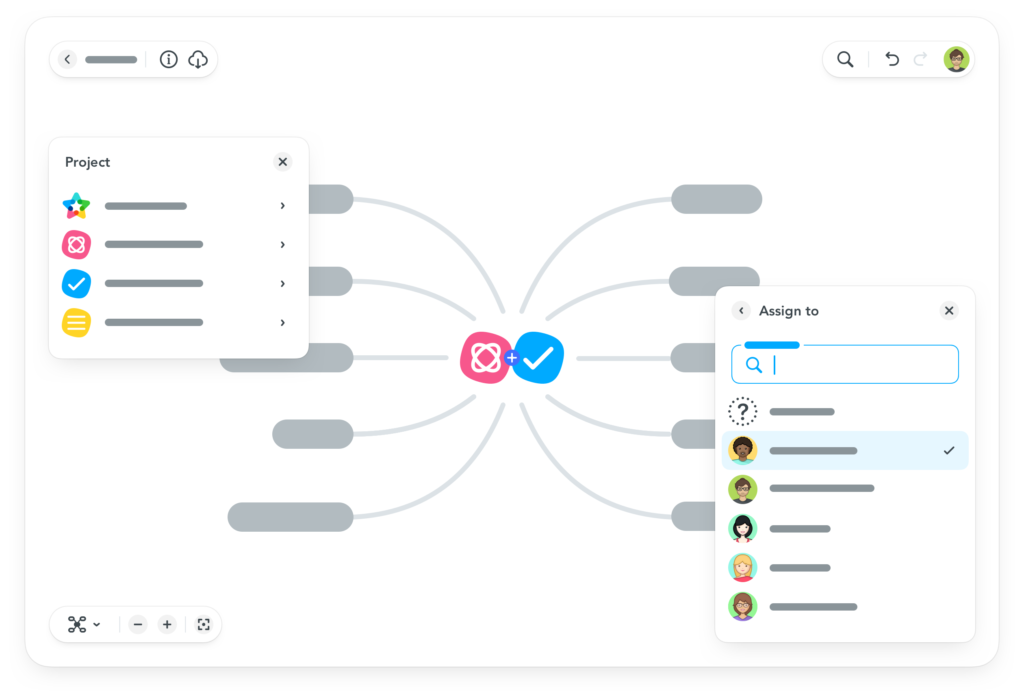 MeisterTask Integration
Convert your notes into fully-featured projects with the MeisterTask integration: the fastest way to turn your note's topics into actionable tasks.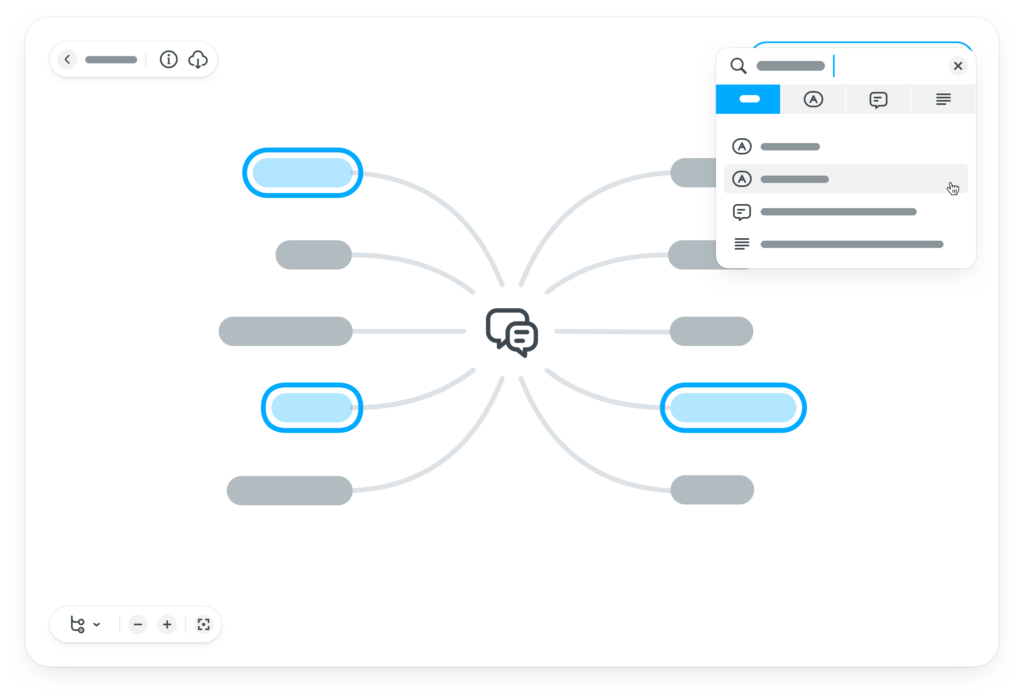 Search
With MindMeister's enhanced search feature, you can find any mention of a keyword or phrase easily. Find what you're looking for without delay.
The Best Way to Take Notes
Start for Free.
Upgrade Anytime.
Everything's Better with Mind Maps
The Benefits of Note Taking.
From work to school to home, note taking is part of daily life. Note taking with mind maps is a great way to record key information visually and can have huge benefits to your creativity and productivity. Better yet, with MindMeister's Outline Mode, you don't even have to choose between linear and visual notes: you get the best of both worlds! Let's take a look at the benefits of note taking with mind maps in more detail.
Show relationships and hierarchies at a glance.
See Connections Between Ideas
Creating notes in a mind map allows you to build out topics and ideas with ease. With the classic radiant mind map structure, you can easily see hierarchies between topics and draw connection lines between them. If one idea fits under another main topic, quickly move it via drag + drop.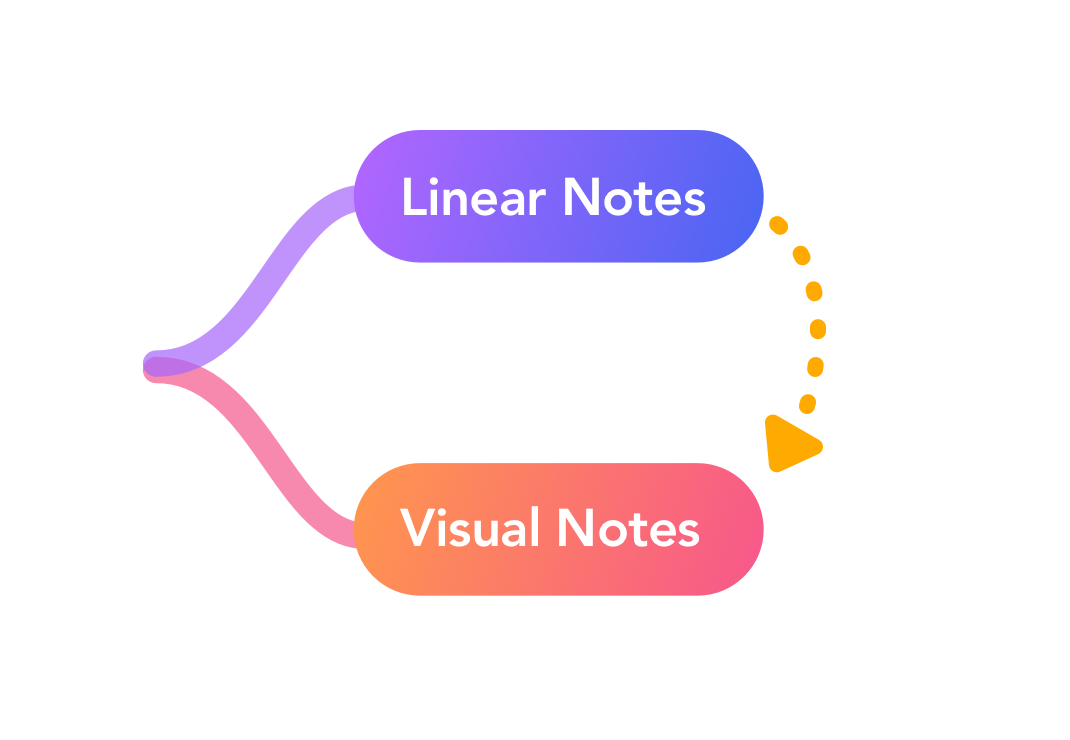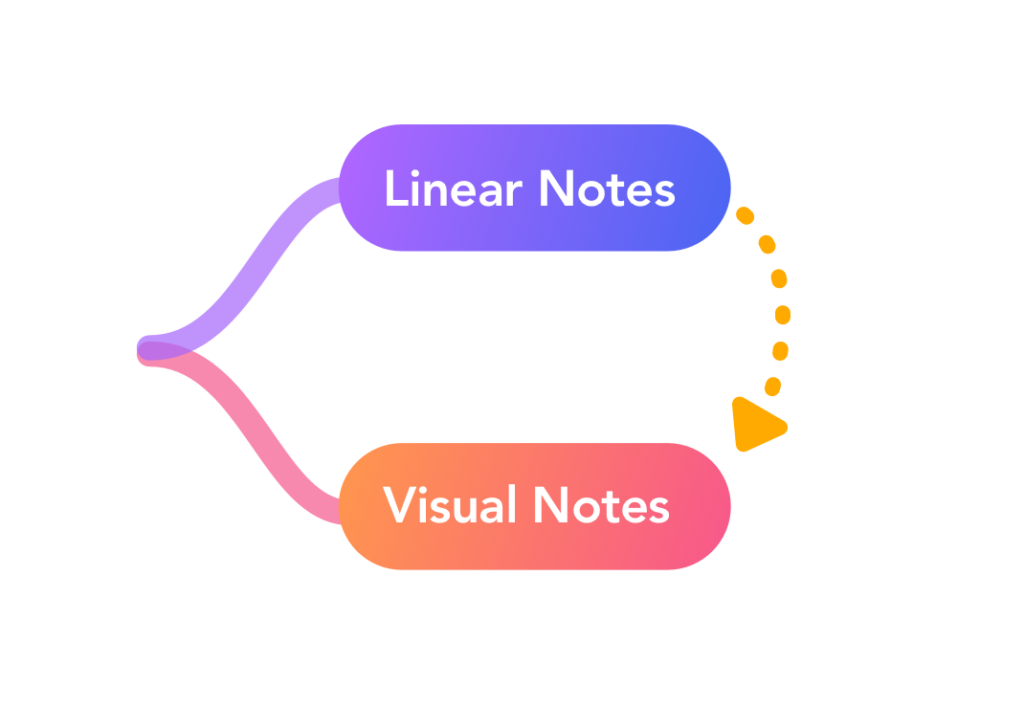 See what matters on the infinite canvas.
Never Lose the Overview
Because the MindMeister canvas is infinite, all your notes are always on one page. Zoom in and out, use color-coding, or paste in images to make topics stand out: you'll never lose sight of the main idea. Don't shuffle through pages and pages of notes, see it all in one place on a mind map.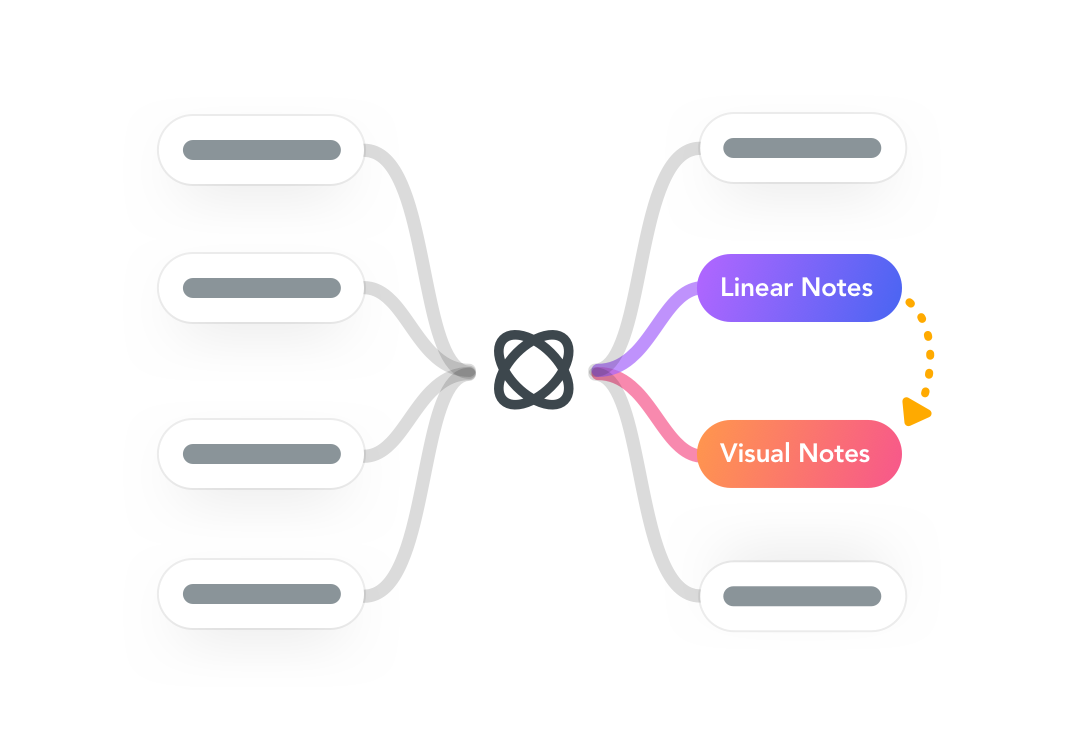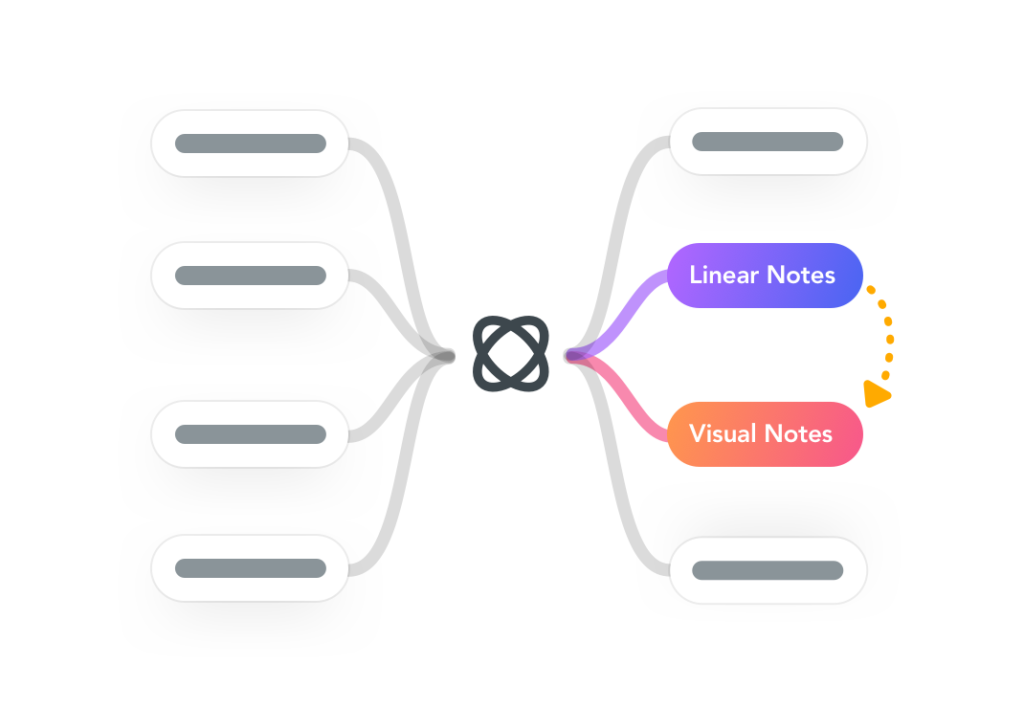 Take more meaningful notes.
Improve Recall and Retention
Mind maps use a variety of mental triggers like images, icons, and colors that help you memorize and recall the content of your notes more easily. Additionally, mind maps encourage fewer but more meaningful notes. Instead of mindlessly transcribing what you hear, a mind map's keywords and phrases help your brain process incoming information.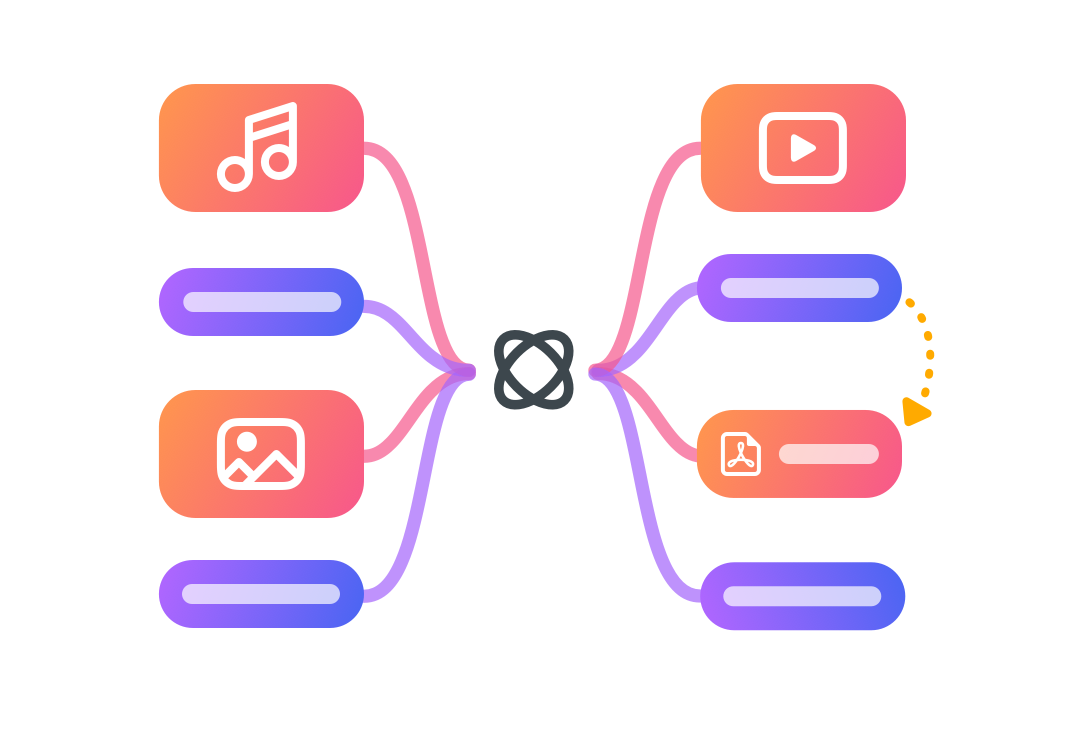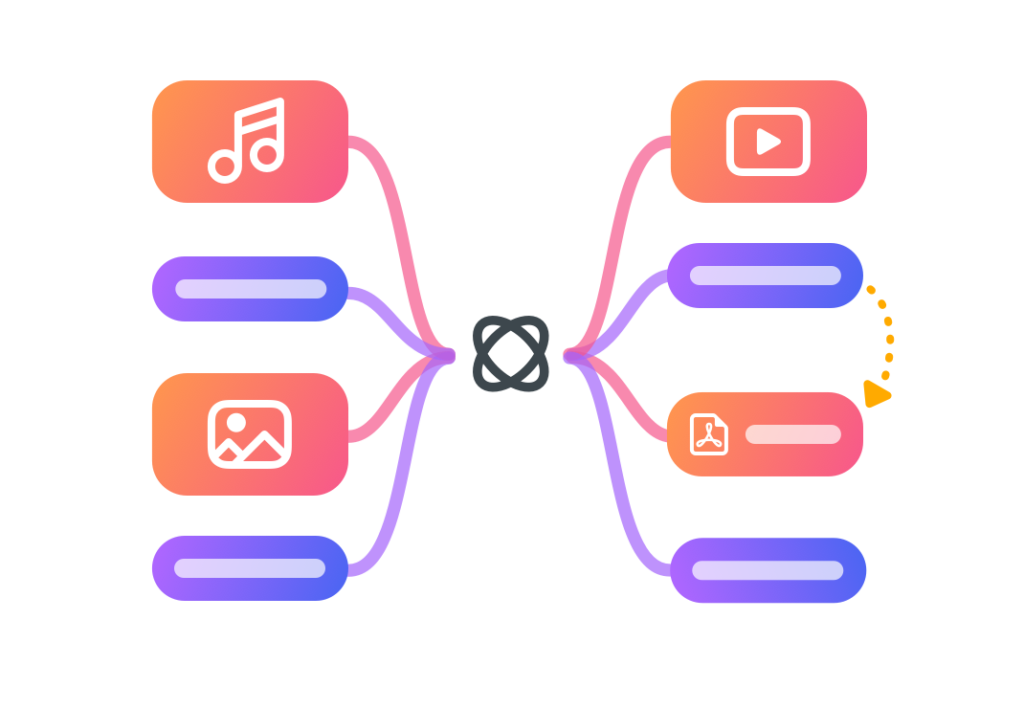 "My brain doesn't work in a linear way, but MindMeister helps me build connections, even across topics. It helps me express myself."
Henna Brodkin, Graduate Student
Give Context to Your Ideas
Add. Link. Integrate.
Securing Your Ideas
Your Privacy. Our Priority.
MindMeister is a Trusted Cloud certified service and fully EU-GDPR compliant. All our products are hosted in the European Union with servers located in an ISO 27001 certified data center in Frankfurt, Germany.
Level Up Your Note Taking Experience
Try MindMeister for Free.
Upgrade Anytime.